CONSTITUTION REVIEW: FASHOLA, AKANDE, OTHERS RENEW CALL FOR TRUE FEDERALISM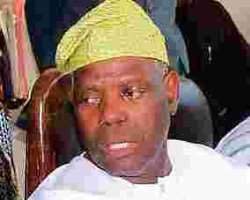 Lagos State Governor, Mr. Babatunde Fashola; National Chairman of the Action Congress, Chief Bisi Akande; and a university lecturer, Prof. Ropo Sekoni, have restated the call for true federalism as the National Assembly intensifies efforts to amend the Constitution.
They made the call in Lagos on Friday at the 60th birthday celebration of the National Chairman of the Pan-Yoruba socio-political and economic organisation, Afenifere Renewal Group, Mr. Olawale Oshun.
At the event, Fashola said he would want the NASS to expunge the anti-federal and unitary tendencies which had held back the country for a long time from the expected amended Constitution.
The governor who argued that the British came to Nigeria only to realise a selfish purpose, however noted that the solution to Nigeria's multi-faceted problems did not lie in the hands of any foreign power 'but in genuine resolve on our own part.'
Fashola said, 'Issues like federal character will not guarantee us unity. It is programmes like the National Youth Service Corps, maybe, and more importantly, those things that make us human; marriage has fully continued to integrate our country. The damage that has been done to our federalism is more intense in the decrees and edicts by the military which are in the Constitution.'
On his part, Akande maintained that true federalism played critical role in the development of other nations, saying, 'The more we refuse to address the issue of federalism, the more we will continue to confuse the generation coming behind.'
In his lecture titled, The National Question: Imperatives for National Restructuring Sekoni stressed that the snatching of powers from states in the last 40 years for concentration at the centre had robbed the states the opportunity of applying the dominant values of cultural groups to governance.
Sekoni added that the arrangement in the Constitution denied nationalities the benefits of cultural democracy which, he said, meant the right of each nationality to live its culture, refine it and use its dominant values for self-determination.
The don submitted that it was not by chance that the United States of America accepted the principle of unity in diversity after centuries of the policy of assimilation and the primacy of the melting pot.
'Obafemi Awolowo's theory that if a country is unilingual and uninational, the constitution must be unitary and if a country is bilingual or multilingual, the constitution must be federal, and the constituents states must be organised on linguistic basis is still valid in Nigeria today and in most countries of the world as it was when he popularised it over a century ago,' Sekoni declared.