YOU'RE ON THE RIGHT PATH, PDP TELLS JONATHAN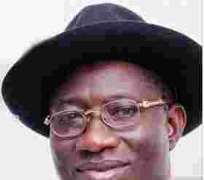 The national leadership of the Peoples Democratic Party on Friday pledged support and loyalty to the Acting President, Dr. Goodluck Jonathan, in the Presidential Villa.
The PDP leadership told Jonathan to continue governing the country in place of ailing President Umaru Yar'Adua.
Chairman of the PDP, Prince Vincent Ogbulafor, led a delegation of members of the National Executive Committee of the party on the solidarity visit to Jonathan.
Jonathan and the PDP NEC met behind closed doors, after which Ogbulafor told journalists the reason for the meeting.
'The meeting is about our party and the federation; the key issues we discussed are about giving him (Jonathan) support. It is about giving the Acting President and Commander-in-Chief support and telling him that PDP is solidly behind him.
'He should go on to govern this nation in the interest of the generality of the people, who voted us into power,' Ogbulafor said.
He said the PDP was satisfied with all the steps that had been taken by the Acting President since he assumed presidential powers on February 9.
Ogbulafor restated the party's satisfaction with the composition of the ministerial list which Jonathan early in the week sent to the Senate for confirmation.
Asked why the party leadership did not make the gesture earlier, the PDP chairman replied, 'Usually, from time to time, we meet with our leaders, and we consult with them. When we have problems, we trash it out; when we need issues advised, he would give us his advice. It is in a forum like this that we tell ourselves the truth.'
The delegation included all the national executive officers of the PDP.