''OWO OKUTA'' is a Satire— Muyiwa Ademola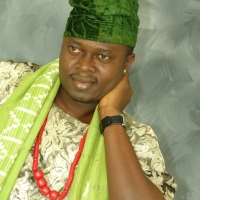 Ademola Muyiwa Adeyinka is one of the leading Nollywood superstars of the Yoruba genre. He is a director, screenwriter, producer and a motivational speaker. His superlative literary efforts include movies like Ogo Osupa, Ori, Ile I and II, Jide Jamal, Alapadupe, Omi-Aanu, Orisa Oke to mention but a few and he has currently produced a new one titled Owo-Okuta. Also to his credit, he directed the following movies; Oro ikilo, Owo wanmi, Atunida, Ojulari, Iranse Aje, Kilebi Olorun, Ami Ayo, Kootu Olorun, Ategun. He was Born 26th of January 1973, and attended Christ Church School Mapo v, Elekuro, Ibadan, Saint David's High school, Molete, Ibadan. Thereafter he proceeded to University of Ibadan to obtain a diploma in Adult Education and Community development and he is currently running a degree programme at the same institution in same discipline. Muyiwa Authentic is a highly sought after actor/director manages-Muy Authentic Presentations, Authentic School of Drama and Muy Authentic Studio which is a production arm of his, drama school and production studio respectively.
Modernghana.com engaged Muyiwa in an online interactive session and he talked exclusively about himself, his career and the way forward in the movie industry.
Excerpt:
Question: What actually informed the title of the movie?
Ans: ''OWO OKUTA'' is an inspirational political piece I shot the movie specifically to checkmate the excessive use of power by the power that be. It's also a medium through which I believe African rulers would know that there is a Natural force that governs our/their deeds, THE LAW OF KARMA, it can neither be effected by any means or changed in any way...You govern well, you leave well afterwards and vice versa. It also applies to every individual. The present political dispensation in the country brought about the birth of OWO OKUTA.
Question: When will it be premiered?
Ans: Well it has been premiered long before now. It was precisely premiered in Manchester and London on 10th and 17th of October 2009 respectively. And the turn out was massive, giving the impression that the literary work met with the demands of our teeming fans both home and abroad, and of course what we have done in the past also gave conviction to our fans that only the best can come from the stable of 'Muyiwa Authentic'.
Question: Would you want to talk about the ongoing rancor in ANTP regarding the Presidential election, and are you participating in any of the elective positions?
Ans: There is no rancor going on, its a normal thing to change the mantle of leadership of ANTP every four years and that is what is going on. No, am not contesting for any political post now!
Question: What's your advice for your fans?
Ans: Well, without them (my fans) and God Almighty there wouldn't be Muyiwa Ademola Authentic. They should just keep on praying for me and keep appreciating what I do. Once again I say thanks for overlooking my inadequacies, Love you all.
Question: What brought about the appellation ''Authentic''?
Ans: God just directed me to pick a name that is quite unique! I came into the industry with the intention of producing movies with unique and uncommon contents and this gave back to my picking MUY AUTHENTIC PRESENTATIONS as a name for my production company.
Question: For how long have you been in the make-believe industry and who is your role model?
Ans: I started about 19 years back. My role models include Dele Odule, Tade Ogidan, Adebayo Salami, Richard Mofe-Damijo, Tunde Kelani, Amaka Igwe, Harrison Ford, Ojopagogo, late S.I Ola, late I.sho Peper, Debo Adediran [my sec schl teacher] and my childhood hero and my greatest actor of all time, AMITABH BACCHAN.
Questions: Would you want to share your private personal; life with your fans, marriage, your likes and don'ts, happiest moment, what you regret most in life etc?
Ans: Am married to Pretty Omolara Ademola and I have kids. I love sincerity and detest liars, appreciate people that are open minded and straight forward. I appreciate hardworking people and respect brilliant creatures. The 1st time I was out of the country and I was accorded so much respect for being an actor. Really don't have, I am a natural person, I take things as they come.
Question: What can you describe as challenges of movie production in Nigeria and the likely way forward?
Ans: PIRACY that's our major challenge. And if something is not done as soon as possible by the government to redeem this, something unhealthy so to speak can actually happen to this industry. Though we are currently experiencing a phenomenon the Economists call ...DIMINISHING RETURNS. It occurs when a [variable] factor of production is being added to a fixed factor, it would initially experience a rise in productivity but would soon change to the opposite in the long run [learnt this about 20 yrs ago]...The industry is fixed, nothing is really done to expand it in terms of product sales, job protection etc but thousands of people both novice and professionals join the industry everyday to produce more films into an enclosed market. If we are not careful, the level of production will keep deteriorating as there is no yardstick adopted in checkmating bad/poor projects while the whole country will give joy to those people that believe we didn't deserve the present rating by UNESCO.
[email protected]
+2348023660770
Development / Accra / Ghana / Africa / Modernghana.com