Open Letter To Chief Orji Uzor Kalu (2)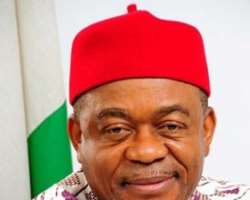 RE: What happened to the ₦1 trillion Abia earned during your tenure (1999-2007)? My second advise or infact warning, is that you should henceforth desist from harassing Gov T.A Orji. Just think about it, are you the only Governor who disagreed with his successor in office? Why all the fuzz? Have you ever heard Dr Peter Odili, Chief Attah, Mr Donald Duke, Alhaji Bafawara, Dr. Chimaroke Nnamani, Alhaji Adamu Muazu etc, say anything against their successors? There is something fundamentally childish and unbecoming about this whole episode. Can't you simply get on with your life, really? But if you choose to persist on this course, and keep abusing Governor T.A Orji, we are firmly resolved to answer you in kind. Our people have decided that this nonsense has gone on for too long. It has to come to an end now!
Posted on September 1, 2014.
Orji Uzor Kalu2
Let me say upfront that I had intended to make these exchanges with you, civil and educated. Apparently, you are not so minded. Your diatribe against me last Wednesday, in your Sex, Crime and Gossip tabloid, was a sickening reflection of the perverse quality of your mind and its chronic inability to rise to the rigorous demands of cerebral discourse.
I was not disappointed, knowing you, artful dodger! Your intention was to distract me from the core issue of your dismal performance as governor of our dear state and even more importantly, your prodigious squandering of the over N1 trillion Abia state earned in that period. Sorry sir, i will not fall for that cheap trick! It is the oldest trick in the business, hurling abuses in order to divert attention. Let us face the issues which i believe Abians and millions of other Nigerians are really interested in. What did you achieve as Governor in 8 years and what did you do with the N1 trillion Abia earned, internally (1GR), and externally, from the federation account? This is the question history will forever pose to you.
You were elected Governor in 1999 and entrusted with the responsibility of leading Abia State and adding value to her. It was an esteemed mandate. Abia had suffered immensely in the hands of various soldiers of fortune who governed her under the military. Umuahia, the state capital, was the epic centre of the Nigerian civil war, having served as the capital of the defunct Biafra. As a young man, many had expected you to see your election as a historic opportunity for a new generation of leaders to seize the moment and put Abia on the path of sustained socio-economic development. But eight years after the fact, what was your record? You claimed in your initial onslaught against Governor T.A Orji, that he is now converting the projects you established as his own. What projects? You assumed office in 1999 and inherited a dilapidated and ramshackle Governors lodge and residence. These facilities had been requisitioned by the first military Administration when the state was created in 1999. You spent eight years living and working in the same make shift buildings. You didn't build a governor's lodge.
You didn't build a governor's office. You didn't build a state secretariat, (even Governor Achike Udenwa of Imo State whom you often made fun of at your dinner table built a state secretariat.) You didn't build an office for the judiciary. The house of assembly is still occupying a temporary office. The commissioners quarters your predecessor started was not completed. Unknown to millions of Nigerians, Abia state is therefore the only state of its age where the seat of Government is still located in temporary buildings, 23 years after. For eight years, the broadcasting corporation of Abia state functioned in temporary apartments. Indeed, everything under you was temporary. You didn't build even a single dualized road in 8 years. You didn't build one hospital or even a maternity, or a market, except the Igbere evening market. You ignored Aba, Abia's commercial nerve centre and allowed that great town to lose traction and become wasted. You left Umuahia worse than you met it, allowing the golden Guinnea Brewery to collapse. Sir, what did you really achieve in Abia State? What did you give to Abiriba, your next door neighbour and Arochukwu, the community you claimed to have adopted? I once asked Chief Emma Nwokoro why you treated Arochukwu so cruelly.
You ignored the collpased intra city roads and didn't pay attention to the perennial water shortage. Yet, at every opportunity, you would go to Arochukwu visiting with many of their illustrious sons. What of Ukwa-Ngwa, what is your record there? The strategic road which passes from Umuahia through the heart of Ngwa land, Ururuka road, and which you announced on television that you would reconstruct, was abandoned. You didn't build a stadium. You didn't build even one secondary school. You didn't set up a University. It was Gen Ike Nwachukwu who set up the Abia State University. Governor Evan Enwerem set up the Imo State University. Governor Sam Egwu set up Ebonyi state University.
So your Excellency, what did you achieve in Abia that T.A Orji is now claiming? Please tell me? Practically, anything of note in Abia State today which Okpara and Mbakwe did not build, was built by Gov. T.A. Orji… New governor's lodge, new secretariat, new governor's office, new conference centre, new judiciary complex, new general market and new office complex, etc.
THE TRIAL OF ORJI UZOR KALU.
You were elected Governor and subsequently re-elected. The governorship is a full time job. But that was not the way you saw it. For you, it was a part time job, a platform to expand your fledging business empire, SLOK, using the time and resources of Abia State. So while the fortunes of Abia state were dwindling under you, the fortunes of your SLOK business empire was expanding exponentially. While in office, you set up an airline, SLOK AIRLINE. You set up a bank, First International Bank, Gambia. When you attended board meetings of the bank in the Gambia, Abia state government usually paid your bills and the ecstacode of the officials in your entourage.
You set up a shipping line. You set up an insurance company, while a plethora of companies fronted for you in the construction business. You increased your equity in the defunct Hallmark Bank Plc. You set up a newspaper, The Sun and also applied for a license to set up a bank in Nigeria. Meanwhile, the State owned Newspaper, the Ambassador, was deliberately allowed to vegetate. You didn't build any housing estate. Meanwhile the only one which the military government had established, the Ehimiri Housing Estate, you acquired over 24 units for your personal use.
ICING ON THE CAKE: In 2007, you took us on a tour of your palatial castle in Igbere. You were in an expansive mood that day and so failed to note that the look on my face was actually a grimace.
I was put off by the grotesque display of opulence and was greatly troubled by the sublime irony of it all. For 8 years, you built virtually nothing in Abia state, not even an office to work from or a residence to live in: And yet you built a palatial mansion, fit for a Saudi King, in your village, just 20 kilometres from Government House! You showed us the guest chalet, 72 rooms, the large lecture hall, larger in your own words than the main hall of the Nigerian Institute of International Affairs (NIIA), the tennis courts, the various swimming pools, the 22-hole golf course, the land you mapped out for the proposed aerodrome (to land small gulf stream jets) the orchard, e.t.c, One question that kept ringing in my mind that day was not where you got the money from (the answer was quiet obvious) rather it was, "so you know how to build befitting structures and you didn't build even a lodge for the governor of Abia State?" Your Excellency, I am still curious: why?
Was it an act of wickedness or plain selfishness? Did you nurse a psychological hatred for Abia and her people? What did our people do wrong by you? How could you, a young man – given such a wonderful opportunity – so crassly abuse it? How could you have treated Abia as war booty? All the contracts in the Ministry of Information, at least during my tenure, were executed by the company belonging to your brother, Prince Nnanna Kalu. For 8 years, the Ministry of Environment was absolutely under your mother. She nominated all the commissioners and managed all the contracts. Choice real estate in Umuahia and Aba, were allocated to your family or interests representing them. And yet, when Governor T.A took over, you wanted that regime to continue.
You asked him to cede the Abia State Government-owned General Hospital in Umunanto, the only one in the zone, to you to serve as the teaching hospital of your proposed SLOK University of Technology. Haba Oga, can it ever be enough? T.A's refusal, (documented) is part of your bitterness towards him. What you may not know is that it was Abia Elders who advised him not to cede that hospital to you. They argued that you made enough money to build a hospital if you needed one.
That is also my considered view. No government in Abia State, now or in the future, should so indulge you again. You have made enough from the system. Something should be left for the people of Abia State. Abia is not a vassal of the Kalu family!
MATTERS ARISING FROM YOUR RESPONSE IN SUN NEWSPAPER
Oga, i sincerely do not relish the prospects of rummaging in the sewer with you. I believe that adults can, and in fact should conduct debates, no matter how contentious the topic, with civility. Nevertheless, I am constrained to respond in kind to you not really because I wish to descend to your gutter, but mainly to make a crucial point to you. Your Excellency, you do not possess a monopoly of rascality, loud mouth or foul language. Well, don't blame me, you asked for this, now here goes, sir.
You accused me of disagreeing with my father, and yet buried him in style. Well, I did o! So what's the big deal with a son disagreeing with his father on occasion? Which young man does not? But what of you; did you have a father? When did he die, and how was he buried? I am referring to the father of a governor, the self-acclaimed richest man in Abia State? You once said that your father never visited you at the Government House throughout your 8 years as governor. Please why was that so, if i may ask? Could it be because he was bitter with you? And why? Does it have anything to do with the occultic and incestuous desecration of sacred maternal values in his family? Which father would be happy to so share his wife? Indeed, your Excellency, you should be the last person to talk about morality and family values.
The truth is that you have none. You are morally bankrupt, through and through. The funny thing is that it is common knowledge. You made your choice a long time ago to pursue the god of money. And I must say, you have succeeded. But the price is that you are bereft of honour and integrity. You should not complain, after all, you got what you always wanted – wealth. You believe that with money you can purchase anything. Your latest project is to become a Papal knight. Well, you are allegedly a Catholic and know the rules. So which wife will you present? Ifeoma, Ifeyinwa, Gladys or Waziri?
You accused me of not having a home in Abuja or Lagos and that I beg for adverts for my newspaper. You are correct sir. I am a tenant in Lagos and I don't live in Abuja so I don't need a house there. But look at it this way, your Excellency; you have houses in Lagos, Aba, Umuahia, Igbere, Abuja, Dubai, Charlotte (USA), Maryland, (USA) London and South Africa; all of them residential! And yet every night you sleep only in one room and in one house. Don't you think the joke really is on you? If I may ask, what really are you seeking with this primitive accumulation of wealth? The wise man wrote in the book of Proverbs: "don't envy the wicked man his riches, in a twinkle of an eye they would develop wings and fly away!" As the Igbo also say, "A beggar is better than a thief" And I would add, he is also better than a serial looter, an abuser of public office and an aggrandiser!
A judicial panel of inquiry recently concluded an inquiry into the disappearance of the Goss Printing Machine purchased by your predecessor, Dr. Ogbonnaya Onu for The Ambassador newspaper. It is alleged that a former top Govt. official spirited it out of government warehouse in Ahiake to Lagos, where it is being used to print a certain tabloid.
I remember that the panel summoned you, but you declined to appear. But sir, between you and I, tell me, do you know anything about the missing printing press? I also understand that it is part of the charges the EFCC arraigned you for.
The problem you have is that you don't make a distinction between the public and private. As governor, you abdicated the duties for which Abia people hired you, and instead leveraged on the position to build your personal financial empire. You forgot I was still commissioner when you set up The Sun Newspaper in 2001 and saw how you shamelessly and recklessly used your office to market the newspaper.
You forced all state Government owned ministries, parasatals, institutions, local governments, e.t.c to place regular advertisements in it. You harassed government agents, contractors, counter parties, banks and other institutions, to patronize it. In 2003 after your re-election, my friend Mr Vin Mgbemena, former MD of Orange Drugs Ltd, placed congratulatory adverts in This Day and Champion newspapers, for you. You were angry and queried him why he didn't place the adverts in The Sun. After his meeting with you, he told me that you are an amazing character. "He didn't even thank me for the adverts, he was peeved that it was not in The Sun". To imagine that you once aspired to contest for the Presidency.
Just imagine you as President of Nigeria! Hmm, you would convert NNPC into a subsidiary of SLOK Group! And they say you want to be senator! Ha, ha, ha!!! Please, on what record of achievement, if I may ask? The amazing thing is that despite your fabulous wealth, you are so pathetically cheap and beggarly. Do you know the common joke about you among the Lagos in-crowd? That you are the only governor who rather than add to your friends pockets, would rather take even the last kobo from them. The late Tayo Aderinokun told me that he and the bank used to buy air tickets for some of your foreign junkets.
Your former friend, Prince Sunny Aku is relieved that he no longer has to pick your bills when you are in Lagos and pay for the cost of your private jet rentals. Chief Chikwe Udensi still rues how much he spent on you. Remember in 2001 when we were in London and Governor Ibori gave you eight hundred pounds for Chuka Odom, former Hon. Minister of State, FCT? You took three hundred pounds from the money claiming, "after all, if I didn't give you the job, James would not have given you the money, Chuka Obu asi? ( Chuka, is it a lie?)" Of course Chuka agreed with you. Please sir, how many governors can descend so low? But of course that's you. No amount is too small, just as no amount is big enough.
Should I talk of your former staffer you had recommended for appointment. When as a mark of respect he brought the C of O of the four plots of land he was allocated in Abuja? Remember what you said to him, "I will take one, give one to Odiuko (your mother) and one to Nnanna (your brother)!" You collected three and left him with only one. That's how you accumulated your buildings in Abuja and all over the world. However, let me ask you sir; truly how much is enough? Will it ever be enough? What is responsible for this craze for material acquisition, a craze that recognizes no moral inhibitions? I fear o!
There should be a limit to everything. But you recognise no limits. No role is too low or degrading for you. As you told Chijioke Nwakodo and some others long ago in Umuahia, "the difference between you and the typical person is that there is no limit to how far you can go to get whatever you want!" You see sir, it is this amoral disposition that has always worried reasonable people about you. Even in those days when we tried to repackage you, that was the feedback we always got from the public. "He cannot be trusted!" You would agree, they have a point.
They recall the early years of the Babangida administration when a certain "upsart" presented a letter allegedly signed by Gen Sani Abacha to Governor Amadi Ikwechegh on the strength of which he was appointed the chairman of the Cooperative and Commerce Bank (CCB). Subsequently, it emerged that the letter was a forgery. DHQ tongue-lashed Ikwechegh who promptly nullified the appointment thereby making you the shortest serving Chairman of a bank in the world. Sir, some people still remember. They also remember a certain youngster who was surreptitiously admitted into Government College Umuahia in the 70′s as the alleged son of the famous Nnanna Kalu. The story of the pugnacious Maiduguri-based businessman who cut pieces of paper and mixed them up with naira notes and announced a huge donation at the Borno State Public Appeal Fund Lunch, has became legendary.
I understand that your Excellency is angry with Abia State University for withdrawing your B.Sc (Hons) Political Science certificate. Pray tell me, what would a reasonable institution do regarding that odious episode? Is it right that a Visitor to a University would enrol in the final year class of the same University, more than a decade after dropping out from another university, write exams and expect to be examined objectively by the same lecturers who depend on him for their salaries and career advancement? Haba, oga, don't you have 'stop' in your dictionary? For your information, there have been intense speculations in Abia over who actually wrote that exam, including the final year project. I have my suspicions. Could it be that same "very close aide?"
If the truth is to be told sir, you live in a glass house, as someone who phoned me last week said. You know it, so why are you embarking on such a risky venture of throwing stones? But I know why.
You are doing what we Lagosians call "ogboju". You assume that you can shout people down. Or maybe because you have set up a sprawling newspaper empire, no one can dare you. However, you are wrong. If you like, you can set up a dozen more newspapers, and employ a legion of journalists to launder your image. But as William Shakespeare prophesied long ago, "not even all the waters of Arabia can wash away this stain!! Sir, you are besmirched for life.
It is wrong and unconscionable for you to set up newspapers to launder your image, turning a national newspaper into a personal album and turning otherwise respectable professionals into attack dogs. No Publisher has done that in the history of the media in Nigeria. A friend of man keeps count of how many times your picture makes the front cover of THE SUN and the ailing NEW TELEGRAPH. No other publisher so abuses his newspaper. Indeed, you have no sense of propriety. How can you devote two newspapers to attack your successor in office regularly?
In normal circumstances, no editor would accept what you are doing, especially this idea of a column being ghosted in your name weekly. What is that! You have corrupted the profession. Now you want to be President of NPAN? Ha, as what? Anyway, be rest assured that some of us will review our membership as soon as you succeed in buying yourself into that esteemed position. I don't believe you possess the nobility of character to lead such an August body. Oga, with due respect, allow me to advise you as your former strategist. Calm down a little and be a bit more circumspect. You can't continue hustling in the same manner you were doing in Maidugiri over twenty five years ago. You are all over the place, running around. Usually, as people age, they tend to slow down and become more measured and even dignified.
This business of hawking proposals all over town at your age and level, harassing governors and all, is demeaning. In government house circles in Uyo, you have become the butt of jokes over your repeated attempts to talk Governor Godswill Akpabio into investing in your New Telegraph. He does not want to. Can't you get the message? He believes that what he has done for your Sun newspaper group so far is more than enough. It is also quite interesting that you are struggling with New Telegraph.
Three Managing Directors in less than six months, and still counting. I heard you also had to slash salaries a few months ago. Now that you are no longer governor to leverage on your office, may be you can appreciate how difficult it is to publish a daily newspaper. And these are early days yet. After squandering the N500m "loan" you obtained from the coffers of SUN NEWSPAPERS account with Fidelity Bank, part of the quarterly N250m Government PR largesse paid from that our brother's office in Abuja, now you will be forced to bring out your own money. That would be crunch time, since you don't like spending your own money; indeed, you are an OPM (other peoples money) expert!
My second advice or in fact warning, is that you should henceforth desist from harassing Gov T.A Orji. Just think about it, are you the only Governor who disagreed with his successor in office? Why all the fuzz? Have you ever heard Dr Peter Odili, Chief Attah, Mr Donald Duke, Alhaji Bafawara, Dr. Chimaroke Nnamani, Alhaji Adamu Muazu, etc, say anything against their successors? There is something fundamentally childish and unbecoming about this whole episode. Can't you simply get on with your life, really? But if you choose to persist on this course, and keep abusing Governor T.A Orji, we are firmly resolved to answer you in kind.
Our people have decided that this nonsense has gone on for too long. It has to come to an end now!
Finally, my dearest oga, pay attention to the wisdom of the ancients: No king reigns for ever. You know why? Otherwise he would become God and no man can be God. Nothing lasts for ever. No one holds all the aces. No one knows everything, not even Albert Einstein, voted as the most intelligent man of the millennium. The path of wisdom is to know when to stop.
Ask any law enforcement officer, the reason most criminals are eventually caught is that they don't know when to stop. You would remember the old saying "every day is for the thief, but one day is for the house owner." Whereas you can fool some of the people some of the time, you certainly can't fool all the people all the time. Biko, if you ask me, i will say you have tried. But in all honesty, it is time to stop, even if it is only to review. Your first son (the one outside wedlock) will soon marry and you will become a grand pa. All these gra gra, what is it in aid of?
As the late British writer, Enoch Powel once opined, "every political career eventually ends in failure." It is especially so for those who don't know when to stop. Artful dodgers do get caught.
As the Igbo say, it is the small shit that spoils that "place." It is true that old soldiers never die, but then they also fade away! In the theatre, when an actor overstays on the stage, the audience eventually boos him off.
In the old Oyo empire, when an Alaafin desecrates the land as you have done, the Oyomesi will present him with the calabash of death. His tragedy is his own making. Obviously, times have changed. But when a recalcitrant and cantankerous has-been refuses to heed the sunset, he becomes cannon fodder for children at the moonlight play.
Your Excellency, I regret to say this, you have left us with little choice. It is not only sad, it is really tragic.
Emeka Obasi
Nnaji Obed Asiegbu
Sp.Asst. e-governance & Strategy
to the Executive Governor
Abia State
Disclaimer:

"The views/contents expressed in this article are the sole responsibility of the author(s) and do not necessarily reflect those of The Nigerian Voice. The Nigerian Voice will not be responsible or liable for any inaccurate or incorrect statements contained in this article."