WHY I STOPPED VISITING OBASANJO IN ASO VILLA – SOYINKA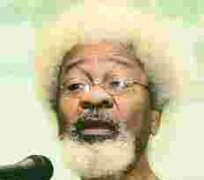 Nobel laureate and social activist, Prof. Wole Soyinka, paid a surprise visit to the Acting President, Dr. Goodluck Jonathan, on Friday at the Presidential Villa.
After the closed-door meeting with the Acting President, Soyinka told newsmen that he was at the Aso Rock for the 'unfinished business of the ill-executed amnesty programme,' as well as the reform of the country's electoral system.
He said, 'As you can imagine, what was uppermost on my mind was what was happening in the oil producing region. The issue of the amnesty, the unfinished business and ill-executed amnesty programme which is a brilliant idea, but as I said to his predecessor, the person he is acting for, Yar'Adua, I hope he will remember I did have a meeting with him, where we had a one-on-one, in addition with meeting him with the rest of the team.
'So it is a continuation of my dialogue with the presidency over the Niger Delta region. So those are the overriding things (discussed).'
Soyinka, a supporter of the Save Nigeria Group, which is still protesting the unconstitutional issues surrounding President Umaru Yar'Adua's ill-health, expressed confidence in Jonathan's commitment to the success of the amnesty programme.
On the electoral reform, he said, 'We also discussed electoral reforms, which he (Jonathan) is a very clear supporter; he is very keen a believer in it. I got very good vibrations from him.
'Unfortunately, one cannot transmit the same vibrations from the members of the House of Representatives and the Senate, many of whose members are unelected anyway, and would like to leave things as they are because they hope to benefit from this illegitimacy and the whole corruption of the electoral system.'
Journalists observed that it was unusual for Soyinka to visit a sitting President in Aso Rock.
In response, the Nobel Laureate disclosed that he used to visit former President, Olusegun Obasanjo in the Presidential Villa until he became disappointed in the retired General.
'Well, you know, people tend to forget that presidents are human beings, first of all, and they have relationships. I used to visit Obasanjo, at least when I thought there was something in him to benefit the nation. When I found there is nothing, I stopped. So it is not unusual for me to visit presidents,' he said.
Pressed to give further insights into their discussion, Soyinka said, 'I don't think one should ever talk of conclusions, you just exchange ideas, and that is exactly what we did.
'He told me of the motions that he has been making to revitalise the (amnesty) programme. I don't even like to use the word amnesty programme, I never liked it, really.'
Soyinka went ahead to recommend a recipe for the success of the amnesty programme. 'Let me begin by saying that it (amnesty programme) was a marvellous initiative; it was a great initiative on the part of Yar'Adua, no doubt about that, but it was ill-organised, ill-thought out.'
Soyinka said his role as a member of the SNG did not feature in his discussions with Jonathan. He said, 'In fact we never mentioned Save Nigeria Group, we didn't. You see, we like to compartmentalise things as much as possible; he (Jonathan) has his presidential responsibilities, I have my responsibilities to the civil society, of which Save Nigeria Group happens to be one, and the Citizens Forum, which I am the head, is also another.'
Asked to comment on the ministerial list sent to the Senate, Soyinka admitted that he congratulated Jonathan for dissolving the cabinet, but added that he could not comment on the nominees because he was not familiar with most of them.
After addressing journalists, Soyinka met briefly with his daughter, Mrs. Moremi Soyinka-Onijala, a Senior Special Assistant in the State House, before departing the Presidential Villa. Soyinka-Onijala was appointed by former President, Olusegun Obasanjo.