N220 BILLION MSME FUND: ANOTHER REALITY OF JONATHAN'S TRANSFORMATION PROMISE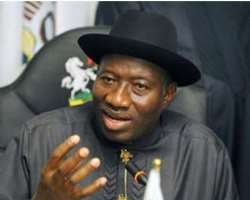 On Monday August 18 2014, President Good luck Jonathan launched the N220 billion Micro, Small and Medium Enterprises Development Fund (MSMEDF) in Abuja.
The MSMED Fund is an intervention programme introduced by the Jonathan's administration to uproot abject poverty from the land; thereby creating jobs as well as empowering Nigerians with the needed skills and finance to turn their ideas to wealth creation.
However, it is worthy of note that access to finance as well as inadequate skills are among the challenges confronting Nigeria before now. May I also add that our tertiary institutions are also contributing to some of the economic woes facing the nation because there lay much and unnecessary emphasis on theories more than practical. There prefer garbage-in garbage-out system of education to creative and innovative thinking system. There teach economic and political theories that only exist in textbooks and not in the real world. There teach students how to look for job and not how to create jobs. This is why there churn out graduates that lacks relevant skills needed for national development. So, this is what the Jonathan Government is hell-bent on correcting.
He has done so by increasing the budgetary allocations to the nation's education sector. He has done so by revamping our air ports and rail system. He has done so by introducing and implementing friendly economic policies that are attracting Foreign Direct Investment (FDI). He has done so by investing heavily in infrastructure. He has done so by establishing the Subsidy Reinvestment and Empowerment Programme (SURE-P). Now, he has launched the N220 billion Micro, Small and Medium Enterprise Development Fund to make resources available to entrepreneurs in the country.
According to reports, the new Central Bank Governor, Mr. Godwin Emefiele was quoted as saying 'It is imperative that this segment of the financial system be strengthened in order to forestall the inevitable adverse socio-economic consequences of financial exclusion… The linkage between finance and economic development has been well documented.'
'Access to finance has a significant multiplier effect on the economy because of its catalytic effect on job creation. It is in realization of this that the (CBN) launched the N220 billion MSME Development Fund to provide financial resources to the entrepreneurs across the country through Participating Financial Institutions (PFI's).'
The CBN boss also added that 6o enterprising graduates had been invited to the programme to be trained and mentored on how to identify business opportunities and source for fund. This is however a commendable initiative by our president.
The report also noted that 'The participating deposit money banks will be mandated to obtain biometric information of borrowers through a data base already created by the CBN to ensure that funds get to genuine borrowers as well as discourage multiple access. Also the apex bank will set up strict monitoring facility to ensure that the money not only gets to the targets, but also used for viable growth.
Under this programme, qualified individuals would be able to access between N50, 000 and N100, 000. While state governments are entitled to apply for N2 billion. In the same vein, two percent of the fund would be set aside for economically active, but physically challenged or disabled persons in the country. Also, intending beneficiaries would be mandated to join a cooperative society to facilitate or increase their chances.
The CBN boss also noted that some billions had so far been disbursed to 313 projects under the Commercial Agricultural Credit Scheme (CACS) as at July 2014.
While launching the fund, President Good luck Jonathan said 'All over the world, the contribution of MSME to GDP is on the average of about 47 percent… with about 17.3 million MSME's in Nigeria, there is need for more concrete and concerted efforts to expand the activities of MSMEs in our country… Given that structural transformation of the economy remains our core priority, we are investing heavily in critical infrastructure to promote job creation and inclusive growth.'
Also speaking, the Minister of Industry, Trade and Investment, Mr. Olusengun Aganga described the CBN intervention as a big step in the development of the MSME sector, but lamented that though SMEs sector accounted for about half of GDP, only 80 percent of small businesses had access to formal financing.
Nonetheless, it will be recalled that this writer had in one of his articles entitled: 'The Truth about Self Employment' called for a 'triangular partnership' between the government, financial institutions and the faith based organizations in the fight against unemployment and poverty in the country.
Nonetheless, a part from the launch of the N220 billion Micro, Small and Medium Enterprise Development Fund (MSMEDF), the President had already put in place economic policies that will leapfrog our economy from that of a developing nation to a very developed one. A good example is the implementation of the National Industrial Revolution Plan.
Comrade Edwin Ekene Uhara is an Activist and Public Affairs Commentator. He is also a staunch supporter and defender of President Jonathan's Government in the media.
[email protected]
07065862479

Disclaimer:

"The views/contents expressed in this article are the sole responsibility of the author(s) and do not necessarily reflect those of The Nigerian Voice. The Nigerian Voice will not be responsible or liable for any inaccurate or incorrect statements contained in this article."