TROOPS AVERT ANOTHER CRISIS IN JOS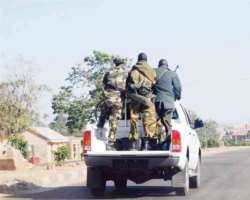 by IFEDAYO ADEBAYO
March 26, 2010 11:54AM
Securitymen patrol the city of Jos in the aftermath of the communal clashes that erupted there. Photo: NEXT
Troops of the Special Task Force (STF) on the Jos Crisis, have averted renewed violence in Bukuru, Jos, Donald Oji, a brigadier general and the leader of the task force said in a statement on Thursday.
According to him, three persons, including the Divisional Police Officer of 'B' Division, Bukuru, were injured, while four suspects were arrested during the aborted violence.
He stated that the incident, which started about 5.30pm, involved two persons who started fighting after a game of football, and later developed to a situation in which youth started blocking the major roads and attacking passers-by.
Guerrilla attacks
Residents of some of villages have also complained of guerrilla attacks on individuals in their villages, with some children missing and dead bodies being found in hidden places.
Confirming the development, the state commissioner of information, Gregory Yenlong, said, "In the last two weeks, not less than 20 people have been killed in selective killings."
The dead and missing were mostly street hawkers, commuter drivers, and those that work outdoors till , some residents confirmed.
According to Mr. Oji, "While we continue to perform our lawful duties, we also appeal to parents and elders to reciprocate our gesture of restraint by admonishing their youths in this dangerous path of perpetrating violence, which they have resorted to."
The task force said in the statement that it is exercising restraint not to bring the necessary force to bear on the undisciplined.
While urging the general public to go about their normal businesses without any fear, it assured that the STF was well-positioned to protect them. It added that the STF had also on Wednesday, assisted the Fan Community in Barkin Lad Council Area to recover their cows that were rustled in the early hours of that day. The STF said five cows were recovered, while efforts were still on to recover the remaining 25. It said troops responded to a distress call by community leaders and arrested two people in connection with the incident.
The statement also emphasised that the STF was on the alert to restore normalcy in Jos and its environs.
A spokesperson for the Hausa Community, Muhammad Sani Mudi, had told a foreign media organisation that, "We now live in fear, as a result of killings in the city, which makes it difficult for us to move about freely. We have lost 23 members to such secret killings in the past two weeks, while 58 others are still missing."
The police spokesperson, Emmanuel Ojukwu, in an interview with NEXT earlier in the week, had said that 41 people would be charged for murder, while others arrested will face different charges based on what their interrogation reveals.
Source http://234next.com/