An Address Presented By His Excellency, Chief T. A. Orji (Ochendo), Governor Abia State, On The Occasion Of The 23rd Anniversary Celebration Of Abia State
And Award Of Honours/Merits To Selected Abians, Holding On Wednesday 27th Day Of August, 2014 At The Michael Okpara Auditorium Umuahia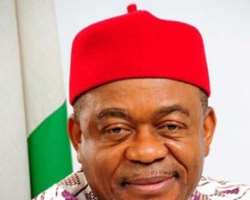 PROTOCOLS
DISTINGUISHED LADIES AND GENTLEMEN!
DISTINGUISHED ABIANS, LADIES AND GENTLEMEN!

It is my pleasure to welcome everyone to this occasion, as we celebrate the 23rd anniversary of the founding of our great Abia State, God's On State. We are all aware that the past 23 years of the development of Abia State has not been easy. But through the resilience and commitment of our industrious people, our leaders and the many men and women out there, we have gone the extra miles in our various endeavours to ensure that Abia State wears a new face today, and is better than we found it.

We salute our founding fathers of this State and all those great men and women out there, who continue to devote their energies to change Abia State for good. Some of these men and women have been honoured in the past and many more will be honoured today for devoting their various talents to the development of Abia Sate, and for projecting our State in positive directions.
Our Administration continues to do its part in deepening the sustainable foundation of the socio-economic and political development of our State in all ramifications. But Abia State remains a "major work in progress", and whatever we have become in the last 23 years are the results of the committed efforts and progress made by various Governments and the indomitable spirit of Abia citizens in all works of life.
That indomitable spirit is the determination of our people and Governments to excel and leave enduring legacies, no matter the odds and the individual circumstances we find ourselves in. That is why even in the history of this Nation we find traces of the significant foot-steps of many Abians who influenced major changes and developments in this Nation.

In Politics, Military, Economics, Administration, Education, Commerce and Industry, Arts, Entertainment, etc, many Abians have stepped up to provide leadership and show the light, so that others follow. Some of them are here with us today and we are very proud of them!
As we celebrate the 23rd anniversary of our State, there are still enormous work to be done and many new frontiers to be surmounted. I challenge all Abians, wherever you may be, to step up and show excellence in your profession, and reflect your achievements, business expansions and talents to develop and brighten Abia State, so that you will be counted as one of those contributing your quota in the development of our State, our economy and our people. For everything you do, always think Abia, because home is always the best!
For our Government of Abia State, today's celebration is very memorable in many ways. It is our last anniversary celebration at the helms of this State. It is also an opportunity for us to recount our achievements and the challenges that we faced in our struggle to leave Abia State better than we found it.

We have certainly tackled the hard task of laying the foundation for the sustainable development of Abia State, through our legacy projects that address the myriads of problems that confront our State.
We have successfully advanced the building and strengthening of the various institutions that support statehood and created a viable democracy in our State, and these are visible in our many completed legacy projects and other works in progress. These are evident in the first Abia State Government House after 20 years; the first Abia State Government Workers' Secretariat, the first ultra modern International Conference Centre and befitting Court buildings all over the State.
All of these and many more have certainly deepened democracy in our State and will ensure continuity of our development efforts in the future, especially as a new Administration takes over in 2015 on a stronger platform than we found when we came to this office.
We have made Abia State a healthier State and pursued the well-being of our citizens through the establishment of 710 health centres in our State to make health care affordable at the grass-roots. We have constructed modern diagnostic centres at Aba and Umuahia, and also a Dialysis Centre at Umuahia to reduce the cost our people incur in foreign medical trips.
We have also collaborated with the Private Sector in establishing a Chest Clinic for screening of Tuberculosis and Leprosy in the Amachara section of our State University Teaching Hospital and built a modern Eye Centre to cater for the visual impaired victims of our society. We have commenced the building of a 100-bed General Hospitals in nine Local Government Areas of our State. Many of these projects are changing the face of the health sector service delivery in our State and are some of the reasons to celebrate in this anniversary.
Our Specialist Hospital in Amachara has been certified as a centre of internship for new medical graduates before their National Youth Service Corps (NYSC).
Our Government has tackled the road infrastructural challenges of the State at both the urban and rural areas, and we have commenced the repositioning of Abia State as an agricultural based economy both to improve our internally generated revenue and food sufficiency of our State economy. That is why a number of our planned 17 Liberation Farms have now taken off in the Local Government Areas of the State. We have equally commenced the privatization of our State Oil Palm and Rubber plantations at Ukwa East and Bende, respectively so as to create more jobs for our population, especially for youth entrepreneurs.
We have strongly addressed the issue of unemployment of our youths through our empowerment programmes that include certified training of young entrepreneurs of Small and Medium Enterprises (SMEs) and donation of equipment to support such private business operations. More than 5,000 Abia youths have benefited from this programme and have been equipped to run their successful businesses as new entrepreneurs. We have also distributed more than 3,250 brand new vehicles to youth transport entrepreneurs engaged in taxi and haulage operations.