Kalu: Obasi Has Exposed Himself To Ridicule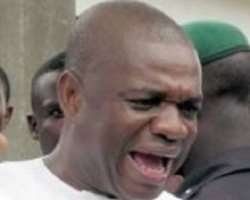 I have read what was intended to be an open letter to the former Governor of Abia State, Chief Orji Uzor Kalu from one Prince Emeka Obasi, circulated in many media platforms, especially online.
What came to my mind after reading the 'abuse' called an open letter is that it seems that all the people that are associated to/with the present government in Umuahia, the capital of Abia State, insult runs in their veins.

Without doubt, I have known the writer of the letter as a newspapers publisher. That was what caught my attention to read the letter knowing that journalists and politicians do not engage in partisan politics. I've known newspapers publishers and journalists, which Obasi is both, as the watchdogs of the society.

But being a watchdog of the society is not for Prince Emeka Obasi or is it associated with him, a man known for questionable characters. It is on record that it takes absolute morality to expose absolute immorality. Obasi ended up in that letter exposing himself, perhaps, with the view that he was about exposing Kalu, whom he served as a commissioner under his government.

I said that it takes absolute morality to expose absolute immorality because if there was anybody who should fight for the present governor of Abia State, that person is certainly not the philanderous Prince Emeka Obasi who left his wife for one Ese Walter, a woman of easy virtue.

This is a man who because of hunger sold the National Mirror to Jimoh Ibrahim and later established Hallmark Newspapers. Reportedly, Obasi has slept with virtually all the women in his employ and does not pay his workers, investigations can authoritatively reveal.

I'm challenging anybody who doubts this to take an inventory of the court cases that Prince Emeka Obasi has had in his life, if they were not those of criminalities like holding the salaries of his workers.

I'm not sure if there is anything that Obasi would write about Kalu that has not been written in this present government's blackmail brand. What name has the aides of the present government in Umuahia not called Kalu, his siblings and mother?

The truth is that Kalu remains an enigma and his achievements when he was governor speak for him. Kalu is a blessing to Ndigbo. Who is even Prince Emeka Obasi in Abia State? A man that went on his knees to beg some Nigerians for money to bury his father when he died a few years ago. One million and one Prince Emeka Obasi can't even pinch Kalu, let alone, fighting him.

I hereby challenge Obasi to come up with the documents he has threatened that he has against Kalu, as any verbal accusations from him (Obasi) against Kalu will still fall on the ground where the aides of the present government in Umuahia know how to plant blackmail and character assassination against Chief Orji Uzor Kalu better.

Dr. Ahmed Yusuf Writes From Kano.

Disclaimer:

"The views/contents expressed in this article are the sole responsibility of the author(s) and do not necessarily reflect those of The Nigerian Voice. The Nigerian Voice will not be responsible or liable for any inaccurate or incorrect statements contained in this article."