Obi Remains The Face Obi APGA In Nigeria Today—Aide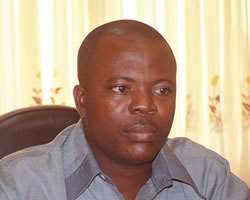 The Media Assistant to Mr. Peter Obi, the former Governor of Anambra State, Mr. Valentine Obienyem has again described his boss as the face of APGA in Nigeria. He made this remarks today while speaking to the press at the burial of the wife of the late Traditional ruler of Adazi-Enu, Nwakego Iloghalu.
Obienyem said that besides being presented as such by Dim Chukwuemeka Odumegwu-Ojukwu, that Obi's steadfastness made the Chairman of the party, Chief Victor Umeh to present to him in September 2013 , the APGA Most Faithful Party Man of Our Time Award.
"Obi has not changed, he has continued to make legendary sacrifices for the growth of the party against the wishes of those that saw the party as an instrument of merchandise. The most recent of his many sacrifices was his rejection of a Ministerial appointment rather than join another party as was requested of him", Obienyem said.
When asked to comment on the statement credited to Chief Victor Umeh's Assistant on Media, Mr. Stan Okeke to the effect that the claim of Obi's sacrifice for the party was a ruse, Obienyem said: "I do not want to make comments on what Victor Umeh or his Assistant said, realizing fully Victor's modus operandi of instigating controversy where none exists and cleverly informing the Governor that he (the Governor) and not himself is the target for the purse of the State to be opened to him in the name of wedging non-existent war, the likes of which he has wedged over the years to the grace of his pockets. I will not reply him in order not to give him that opportunity or better still not to descend to his level of thoughtless rascality."
Asked the position of the Church in all this, Obienyem regretted the mentioning of the Catholic Church by Umeh's Assistant and advised him to better go an sit his boss down and talk sense into him, rather than seeking to set Obi against the Church and sundry other groups. "Victor knows he has nothing to lose, such that he is always content running to the market whenever Obi's name is mentioned.
If this is pathological hatred, I am sure that even flies to come within the radiation of that hate will fall dead.. But he must realize that many people know Obi very well and that Obi has entrenched his character into the psyche of the people for him to destroy, as is always his aim, Obienyem concluded.