Youth Inclusion In Politics: Focus On Nigeria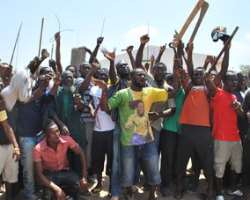 "Nigerian youths are not capable of leading this country..." These were the exact words of a Nigerian former Head of State, General Ibrahim Badamosi Babangida, IBB, in April 2010 while being interviewed by the Hausa BBC service as Nigeria prepared for the 2011 elections.
This comment generated a lot of uproar and condemnations from youths as they lashed their emotions at the former Nigerian Head of State claiming that his statement was spurious and fallacious. Various political critics have critically examined that statement and as expected have come out with varying views. One of such is Azu Roberts-Mary, who wrote on Sahara Reporters in April 2010 that, "To be fair to IBB, perhaps the young people he meant are those who hang around him like leeches for easy money, the so called 'IBB supporters'. To that extent we could excuse his intemperate arrogance".
Before i proceed, it is pivotal at this juncture, to define the word 'youth'. According to wikipedia, "Youth is the period when one is young, but it often means the time between chidhood and adulthood". The Nigerian Constitution defines a "Youth as an adult not below the age of 18 and not above the age of 35." Politics, on the other hand, refers to activities associated with running a governmentof an organization or political entity like a country.
A perusal into the fabrics of the Nigerian political system reveals the grim state of youth's inactiveness in politics. To understand the dynamics, one would discover that there is a wide spread apathy among youths, as they view politics as a 'dirty game' in which they are incapable of getting involved with. Perhaps, this is evidently displayed by the high number of unsolved cases of assasinations and manslaughter from varying opposing political quarters.
The unresolved cases of Bola Ige and Funsho Williams are just few cases.
Even the attitude of elite politicians is not accommodating as they show little attempts at stepping aside to allow the youths to take control. It is not difficult to notice that it is the same set of politicians that have held elective posts, 30 or 20 years ago that are still politiking the system.
Statistics from the National Bureau of Statistics (2012) reveals that of the Nigerian population of 166m, 50% are youths. Of this figure, only 44% are actively employed leaving the rest unemployed and incapable of releasing themselves from the clutches of politicians who conscript them as thugs and touts and even personal security.
A reminisce into the past reveals that great political change that has shooked the world were achieved by men who were vibrants as youths. From Adolf Hitler to Martin Luther King and even in Nigeria, one cannot forget quickly the Youthful struggles of Nnamdi Azikwe, Obafemi Awolowo and Tafawa Balewa who were great nationalists in their time.
Even in post-independence period, the Nigerian youth was still active in politics as a former head of state; Yakubu Gowon ascended power at the age of 32, Maitama Sule also became an oil minister during the Muritala/Obasanjo administration at the age of 29 and also recall that Shehu Shagari, Nigeria's President in the second republic was a federal legislator at the age of 30 and a minister at the age of 35.
All around the world, there has been a paradigm shift as there is now a clear realisation that inclusion of youths in governance is of utmost importance. As it was put in an article on African-outlook, that "Globally, most developing economies have already accepted the practice of appointing or electing younger citizens into sensitive political positions as a given which is why a young upwardly mobile community development worker and junior Senator in the person ofBarack Obama was elected January 20th 2009 as the first black President of the United States of America [at age 48] and that is precisely why they, in places such as Australia [Julia Gillard] and the United Kingdom [David Cameron], were elected at one time or the other as Prime Minister of their respective nations."
This realisation is now clear even in the middle east; the arab spring of 2011 if critically assessed reveals the fundamental role piloted by the youths who were dissatisfied with incompetence of the ruling elites displayed by their corruption, the high unemployment and the fact that dictartorship was an old system in this age.
The Nigerian constitution carries along youths as the minimum age for contesting elections into the Federal House of Representatives is 30 years, this is also the same for State House of Assemblies across the federation. It also stipulates that to contest for the Senate one must attain the minimum age of 35 years. Although, to contest for the Preseidential office, is a minimum of 40 years. This clearly depicts the embrancement of youths by the federal constitution of Nigeria.
In Nigeria here, it's been 4 years since General IBB made his famous scathing remarks at the Nigerian Youth, but recent events have proven him wrong as the level of interest shown by the youths is on the rise. Take for example, the 2011 elections and even the recently concluded elections in Anambra, Ekiti and Osun. The role played by youths in the poles where comendable as they didn't only turn out in their large numbers to exercise their franchise but they also stayed behind to witness the counting of votes. Even on Social Media platforms like facebook, twitter and Youtube; that has an higher percentage of young individuals, was not left out, as conversations where ongoing, pictures and videos from poling units were shared and they flooded the internet. This is one testimony to the fact that the level of youth involvement has increased. Another key example is the #BringBackOurGirls campaign conversations spearheded by youths on twitter againts the Boko-Haram manance in North-eastern Nigeria. Popular among them includes Japhet Omojuwa and Tolu Ogunlusi among others.
As the 2015 elections draw closer in Nigeria, more young individuals have began to declare their candidacy, inclusive among them are popular musician Akande Abolere also called "9ice" who recently declared candidacy for the Federal House of Representative, another musician is Kenny Saint Brown who declared candidancy for the Lagos House of Representatives, also, a Nigerian Comedian Julius Agwu also has declared candidacy for Rivers State Governorship office. Others include Desmond Elliot; a popular Nollywood actor.
Although, this is not enough, more needs to be done if Nigeria is to catch up with the rest of the world. The government needs to stretch its hands further the way of the Youths in the area of political appointees. There are quite a number of youths with proven leadership experience. This is one way towards progress.As was recently done in the United States of America, where an handful of young minds worked with Condolezza Rice; a former US Secretary of State. One key youth is Jared Cohen; who served as a Planning Policy staff from 2006-2010 beginning his appointment at the age of 24 years of age. He helped shaped USA counter radical strategies and advised on USA policy towards Iran & Middle-East. Jared is currently the director of Google Ideas. It was evident that his youthful thoughts, innovations and ideas were a goldmine whiled he served the USA, such is what a great number of capable and innovative youths in Nigeria can do.
It is common say that, "Youths are the leaders of tomorrow". That is why it is key that political parties should review their parties' structure and policies to make them more youth friendly, a political party should not jst be an avenue to contest elections but also a training ground for future leaders. Elderstatemen within the parties can diffuse their gained experience into the younger generation, thus ensuring consistency of ideology. Nigeria as a nation is blessed with of great leaders who are still alive, they can sell their model of a greater Nigeria to youths rather than complain on the faces of the Newspapers; you would recall Obasanjo's "open letter" to President Jonathan for example.
Conclusively, it is a worthy question to ask that when this generation of leaders transit to the great beyond, how many youths can beat their chest to claim the mantle of leadership. The greater the number of such youths the better it is for Nigeriaand the world at large.
Abiola Ayodeji Gbemisola, is a student of Economics at the Obafemi Awolowo University, Ile-Ife, Osun State Nigeria. He is also an Editor with Economic Insight Press Agency. He tweets from @bilex_g. Contact him via [email protected]
Disclaimer:

"The views/contents expressed in this article are the sole responsibility of the author(s) and do not necessarily reflect those of The Nigerian Voice. The Nigerian Voice will not be responsible or liable for any inaccurate or incorrect statements contained in this article."