Chibok: My Daughters Yet To Be Freed... Principal Cries Out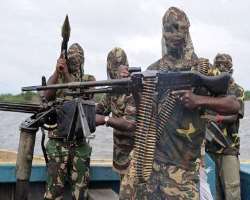 The Principal of Government Girls Secondary School, Chibok, Hajiya Asabe Kwambula has lamented that over 130 days since some members of Boko Haram sect invaded her school and abducted 276 schoolgirls, the whereabouts of the girls is yet to be known talk less of their being freed or rescued.
Hajiya Asabe lamented on Friday at a One Day Capacity Building/Skills Acquisition Training for Vulnerable Women/Girls in Maiduguri and Jere Local Government Areas of Borno state.
The occasion which was organized by the Coordinator Healthcare Development Focus Initiative (HECADF) with support from NSRP/British Council took place at the Women Development Centre, Maiduguri, the state capital.
She said, although, about 57 of the abducted schoolgirls managed to escape from captivity, no fewer than 219 are still held captive and urged all and sundry to continue to pray for their freedom, as affected parents and their relatives have been traumatized psychologically.
She however frawned at the rate at which quiet a number of women and girls became widows, orphans and vulnerable in the society following the increasing rate of killings in Borno and some parts of the north east by insurgents.
In her welcome address, the Coordinator of HECADF, Sister Agnes Bashir said, her organization with support from the British Council took time and visited some begging spots around Mr. Biggs, Oasis, Lizzy Restaurant, Bolori Round-about, Post Office areas in Maiduguri and Jere where it identified and selected more than 60 of its target group who were poorest of the poor vulnerable individuals that lost their husbands and breadwinners due to the ongoing insurgency.
She explained that apart from counselling and sensitizing them both individually and as a group, HECADF deem it fit to train them on livelihood and liquid soap making in order to make them self-reliant and as well take them off-the streets from begging and engaging in other social ills that will endanger their lives.
Agnes noted that these women and girls who participated in the training and capacity building are all breadwinners in their various homes, adding that their role came about because those who have been providing their families' basic needs have either been killed, abducted or disappeared during the insurgency, and that most of them are traumatized, sick, has nothing or little to eat and worst still they can no longer afford to send their children to school.
While urging the participants to utilize the opportunity from the trainers so that they will not only be off -the- streets from begging that exposes them to danger, but also become self-reliant and be able to Carter for their immediate needs in the society also called on philantrophic organizations and meaningful individuals to assist these type of vulnerable women and girls through their cooperate bodies which have been established to get them revived economically.
In her goodwill message, the Regional Coordinator of NSRP/British Council, Hajiya Hamsatu Laminu thanked the organizers of the workshop and promised British Council's support to all institutions that work towards women/girls empowerment especially the vulnerable ones in the society.