Ebola death toll passes 1,200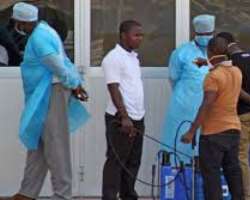 Ebola death toll passes 1,200
Cases in West Africa's Ebola outbreak this year have risen to 2,240, including 1,229 deaths, the World Health Organisation (WHO) said on Tuesday, reporting the toll in four countries including Nigeria.
The WHO said it was working with the United Nations World Food Programme (WFP) to ensure food delivery to one million people living in Ebola quarantine zones in Guinea, Liberia and Sierra Leone.
"Food has been delivered to hospitalised patients and people under quarantine who are not able to leave their homes to purchase food. Providing regular food supplies is a potent means of limiting unnecessary movement," the WHO said in a statement.
The WFP is stepping up emergency food deliveries to the quarantined areas, which include severely-affected cities such as Gueckedou in Guinea, Kenema and Kailahun in Sierra Leone and Foya in Liberia.
While Nigeria, Africa's most populous nation and No. 1 oil producer, appears to be containing its smaller outbreak, Liberia and Sierra Leone are struggling to halt the spread of the deadly Ebola virus among their populations, Reuters says.
 
 
Thenation