Tolu Maintain's Wife Funmi is Dead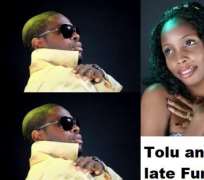 Former Maintain star Tolu Ogunniyi has lost his wife.
Very reliable sources told NET the singer's wife Funmilayo Aderonke Ogunniyi with whom he tied the knots in January 2008, passed on early this morning at the University College Hospital, Ibadan.
'She had been sick earlier but got Okay. She just complained yesterday that she wasn't feeling her body, and they took her to UCH where they said she had Jaundice', a source close to the family tells NET.
Sadly, the 25 year-old mother-of-one died today, leaving her husband in serious agony, and her two year-old son Bukunmi stranded.
"It's sad, very sad", a family friend who lives in the Ogunniyi's Felele-Ibadan neighbourhood told NET over the phone.
The deceased studied Mass Communication at Olabisi Onabanjo University, but ran a Salon in Ibadan, and traded in gold, before passing on.
Funmi's widower Tolu is a recording artiste who enjoyed prominence in the nineties as a member of popular pop group Maintain. He recently kicked off his solo career with the release of two fresh singles. Sources say Tolu himself is a sickler.
"I wonder who'll take care of her baby now", a family friend told NET. "This is sad, very very sad".
Story by Ayeni Adekunle