The houses that they built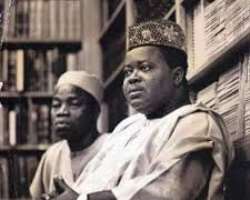 The houses that they built
Dr. Michael Okpara
By Eric Teniola
Dr. Michael Iheonukara Okpara (1920-1984) took over as Premier of Eastern Nigeria in January 1960 from Dr. Nnamdi Azikiwe (1904-1996). The old Eastern Nigeria now consists of nine states namely Rivers, Akwa Ibom, Bayelsa, Cross Rivers, Abia, Imo, Ebonyi, Enugu and Anambra states. For six years he was head of government of Eastern Nigeria. Dr. Okpara was the son of a labourer but rose to become a medical doctor of distinction. He practised what is termed "Pragmatic Socialism" and his hobby was building infrastructure development for Eastern Nigeria as well as encouraging agriculture. After the unfortunate civil war, he went to exile in Ireland where he practised Medicine. Before his return from exile in 1979, his close associates took up a collection to build him a house in his village at Umuegwu in Umuahia, Abia state and that was the only house and property he ever had. He died on December 17, 1984 and today, a University of Agriculture is named after him in Umudike and likewise, a street is named after him in Abuja. It was in the house built by his friends that he was buried in 1985.
Apart from Dr. Olusegun Kokumo Agagu (1948-2013), no other elected leader is better appreciated and admired in Ikale land particularly in Osooro Kingdom, in Ondo State, than Chief Christopher Oluwafunmi Akinfosile (1920-1996) the Minister of Communication in the first Republic. He was an encyclopaedia of ideas. His hobby was in giving scholarships to students, building schools, roads, post offices and agricultural settlements in Ikale land. I was, in a way, his chauffeur, assistant and friend between 1977 and 1984 when he was the National Chairman of NPP.
Although I was still working in The Punch as National Assembly Editor, but there comes a time in a reporters' career when your reporting career goes beyond mere coverage of a leader you are assigned with. Several times during that period, I would give Chief Akinfosile a ride in my old Volkswagen from a flat he rented at Mende in Maryland area of Lagos, to political meetings.
On October 18, 1979 through the NPN/NPP accord, he made some notable NPP members including Paul Iyorpuu Unongo (77), Mrs. Janet Adefenwa Akinrinade, Mr.  Geofrey Ademola Thomas(1925-2013) and others, Ministers under President Shehu Shagari.
Myself and his cousin, Mr. Opeyemi Oyedele alias John Bull persuaded him to make himself a Minister or someone from Ondo State. He rejected our plea insisting it will be the greatest height of nepotism to do so. Yet in terms of physical cash he had none. Chief Akinfosile was a very forthright individual, highly principled and too much in love with his people. With my cousin, Chief Babu Akinbobola, I attended his funeral service held at St. John's Anglican Church, Igbotako on Saturday November 2, 1996. It was a befitting burial organised by his children, relations and friends including Egbon George Akinfosile, Femi Omoniyi, John Bull Oyedele and his brother Ife Oyedele, a public relations guru. The house that he built in Igbotako is in the heart of the people of Ikale land and they expressed their gratitude, some with tears, in their eyes, on the day he was buried. And they still remember him till today.
Chief Obafemi Awolowo (1906-1987), a man with a commanding presence and magic touch, was Premier of Western Nigeria between October 1, 1954 and December 15, 1959 – about five years before he made the mistake of crossing to the centre. Imagine the lasting achievements he made in that region within such a short period.
One of the most romantic figures in Ibadan politics was Alhaji Adegoke Oduola Akande Adelabu (1915-1958) alias penkelemesi. My friend Akogun Lekan Alabi has written so much about the man. Yet when he died in a car accident on March 23 1958, Alhaji Adelabu, "the lion of the west", had no house. Today in Ibadan the house he built is still in the heart of the people, that is 56 years after his death.
Since the people's lawyer late Kanmi Ishola-Osobu, himself an advocate of the oppressed, introduced me to late Mallam Muhammed Aminu Kano (1920-1983) in 1975, I could count on how many clothes the late Mallam wore throughout my coverage of him till he died on April 17, 1983. People hardly noticed because he wore only white with his customary red cap – now the trademark of Engnr. Rabiu Musa Kwankwaso, Minister of Defence in 2003–2006 and now second term governor of Kano State. In terms of money he had none even though he was born into wealth like Dr. Yusuf Bala Usman (1945-2005), a defender of the destitute and the needy. He chose to be poor to fight for the talakawas like Mohandas Karamchand Ghandi (1869-1948) of India. He once said that "All parties are but the expression of class interests, and as the interest of the talakawa (commoners) is diametrically opposed to the interest of all sections of the master class, a party seeking the emancipation of the talakawa must naturally be hostile to the party of the oppressors".
People often forget that Mallam Aminu Kano was once the Minister of Communication (1967-1969), Minister of Health (1971-1975), leader of Northern Element Progressive Union (NEPU), 1950-1966 and leader of Peoples Redemption Party (PRP) until his death. He is best remembered as the leader of the poor people. After his death, the only house he had, which was in Kano, was converted to the Centre for Democratic Research under the Bayero University in Kano.
Nigeria's first and only Prime Minister, Sir Abubakar Tafawa Balewa (1912-1966) who was from Jere ethnic group (a branch of the Hausa), had neither fortune nor palaces when the soldiers killed him on January 15, 1966.
He left behind 19 children, an ailing mother Hajia Inna, a post-humous daughter Zainab, a home in Tafawa Balewa in the present day Bauchi State, a farm, a small bungalow in Kaduna which was later donated to Jamatu Nasri Islam, a wrist watch, a worldwide short radio, a ceremonial scimitar given to him by Sardauna of Sokoto, Sir Ahmadu Bello and three wives including Laraba and Jummai.
His own fate was far better than that of the late Leader of Government Business of Northern Nigeria between 1951-1954 and Premier of Northern Nigeria between 1954-1966 and also leader of the ruling Northern People's Congress (NPC). Sir Ahmadu Bello (1909- 1966) who had no house in Kaduna yet he was the most powerful politician during his era. The two houses he had were at Sokoto and in his village at Rabbah. He was the grandson of Usman Dan Fodio who founded the Sokoto Empire. After he too was killed on January 15, 1966 with his most senior wife, Hajia Yangu Wan, all his belongings at the Premier's lounge were looted. His head of the domestic staff at that time Alhaji Ibrahim Dasuki (90) was in Mecca and his  most senior permanent secretary, Alhaji Ali Akilu was hidden by the then Commissioner of Police for Northern Nigeria, Mr. M.D. Yusufu from being killed by the military. Only a few of his aides including the Minister of Land and Survey and a wealthy Kano businessman Alhaji Ibrahim Musa Gashash, his Chief Private Secretary, Alhaji Gidado Idris (79) and Turaki Zazzau Alhaji Aliyu, were brave enough to organise his burial at Sultan of Sokoto's residence in Kaduna. He had no bank account.
The life style of these men, is in sharp contrast to the conduct and personal fortunes of the present day generation of political class who have made the looting of the treasury their desperate hobby and passion. I believe great leaders are better remembered and admired after their demise, more for services provided, the goodwill they cultivated, the structures they were able to build while in power, the amenities they were able to provide, more than the billions of dollars and naira they looted in power.
And as they say in Latin "fax mentis incendum gloriae", which means "the passion for glory is that of the torch of the mind".
• Teniola is a former Director at the Presidency. He lives in Lagos.