Court halts probe of Abuja land sale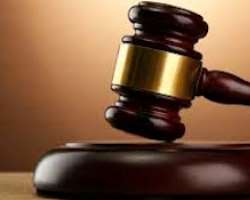 Court halts probe of Abuja land sale
A Federal High Court in Abuja has restrained the Economic and Financial Crimes Commission (EFCC) from launching a fresh probe into the dispute arising from the 2005 land transaction in Abuja involving a former Minister of Information, Emeka Chikelu, a firm – Bedding Holdings Limited and a businessman, Alhaji Dahiru Barau Mangal.
Justice Adeniyi Ademola gave the restraining order against the EFCC on Tuesday at the hearing of the fundamental rights enforcement suit filed by Bedding Holdings' Chief Executive Officer, Chief Sylvester Odigie.
The EFCC, by the court's order, has been restrained from proceeding to invite or arrest the plaintiff pending the determination of his suit.
A copy of the enrolled order was sighted by The Nation on Wednesday.
The order was informed by the refusal of EFCC's lawyer, Salisu Majidadi, to give an undertaking, assuring the court and parties that his client would abide by the doctrine of lis pendens, and refrain from taking any further steps likely to affect the res (subject matter of the case) before the case's conclusion.
The applicant's lawyer, John Okoriko, had complained to the court that despite that his client, who was aided to court by a medical expert from the Garki Hospital, Abuja, is ill and was due for surgery in a German hospital in few days time, there were threats of arrest from the EFCC.
Upon hearing the lawyer's complaint, the judge asked EFCC's lawyer to give an undertaking that his client will not arrest the plaintiff while his case is pending, a request Majidadi (lawyer to the EFCC) declined, saying he was not instructed by his client to give any undertaking.
 
thenation