Fashola Calls For Patronage Of Made-In-Nigeria Goods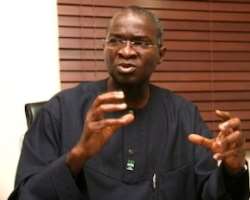 Fashola Calls For Patronage Of Made-In-Nigeria Goods
Governor Babatunde Fashola of Lagos State has called on Nigerians to patronise 'Made-in-Nigeria' goods rather than imported ones.
The governor spoke on Tuesday while flagging off the 2014 Eko Expo Trade Fair at the Lekki Free Zone, Lekki, Lagos, southwest Nigeria.
Fashola explained that there are many goods and products that the average Nigerian use day-to-day, from cars to tissue paper, lamenting that most of these goods were being imported from other countries.
He lamented that people see goods made in Nigeria as being substandard or have the mentality that foreign goods are better than the ones made in Nigeria. He urged entrepreneurs to take a two-part approach to change this notion.
The governor said to promote and sustain the Nigerian brand of products and services, there was need to be globally competitive, stressing that the goal of sustainable employment generation required that "we assess our competencies in the face of global competition."
"At this stage of our development, we need not delude ourselves with the misconception that Nigerians will patronise made in Nigeria goods out of patriotic sentiment as against product quality considerations," he stated. One of such approach, he said, was shifting focus to made-in-Nigeria products because that is  the future of the nation's economy, adding that the other approach is to change the nation's current business models for the better.
"Imagine what would happen if 160 million Nigerians consistently buy made in Nigeria goods; the multiplier effect on economic growth and development will no doubt be quite far reaching. Not only will the manufacture and sale of such create employment for Nigerians, it will also boost internally generated revenue and prevent capital flight.
"We need to develop a proper business culture and that can only be done if we build business models that are of world standard. I often say that the prevailing business model in Nigeria is the 'I want to do business' model," said Fashola, who was represented by the Secretary to the State Government, SSG, Dr. Oluranti Adebule.
 According to him, "this model is flawed because it fails to pay attention to some of the key factors that make businesses successful: factors like innovation, providing solutions, stock taking, long term planning and innovation."
He said businessmen and women must begin to concern themselves with building brands that would add value to the economy and outlive them instead of fighting to operate businesses that were outside the formal structures and businesses which could not grow as they should.
"Such businesses cannot be passed on to the next generation. Even in this generation, they can't be properly expanded because you cannot use them to obtain loans or even contracts from companies that follow due process. Thus, in fighting to avoid things like taxes and duties, which are actually used for your own good, you are killing your businesses," he stated.