Dickson sets up 103 Ebola surveillance centres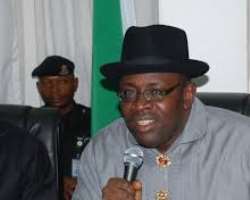 Dickson sets up 103 Ebola surveillance centres
 
 
Bayelsa State has made strong contingency plan ensure that the ebola virus does not make a deadly landing on its frontiers.
The government of the state on Sunday announced the setting up of 103 surveillance centres, which are spread across all the local government areas in the state.
It is also inaugurated an 18-member committee to check the outbreak of the deadly the disease in the state.
The Chief Press Secretary to the Governor, Mr. Daniel Iworiso-Markson, said in a statement, that the governor urged the people of the state to imbibe the culture of personal hygiene, which he said, could assist in the prevention and the spread of the deadly virus.
The governor reassured that in the event of any outbreak, the state government had the capacity to deal with it.
Dickson said that given the high fatality rate associated with the scourge, there is the need to treat it as a national security issue, saying the government will provide all the support that the committee requires to function optimally.
He called on the people, particularly community and opinion leaders to be watchful for suspected patients with the Ebola symptoms.
The Bayelsa governor commended President Goodluck Jonathan for initiatives by the Federal Government aimed at stemming the spread of the dreaded disease.
He, cautioned the people against resorting to unorthodox means in seeking to ward off the deadly virus, pointing out two people had already died and others hospitalised from such practices.
The Chairman of the 18-member Bayelsa State Task Force on Ebola Virus, Dr. Ayebatonye Owei, in his remarks, said the Federal Medical Centre and the Niger Delta University Teaching Hospital had been designated as centres with isolation wards prepared for the management of the disease.