Land Allocation: Nasir El-Rufai Family & Abuja master plan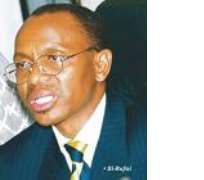 The former Minister of the Federal Capital Territory, Nasir El-Rufai has, in unusual strong language, discounted claims by the Economic and Financial Crimes Commission (EFCC), that he misappropriated government land which he allocated to his friends and family members, in flagrant breach of the Abuja Master plan.
Documents obtained exclusively by Huhuonline.com show that between 2003-2007, El-Rufai among other things, allocated ten plots of various sizes to his family members, including his wife, Hadiza Isma El-Rufai who got two plots; one in the Asokoro district and the other in the Kubwa district. Other family members who were allocated plots are:
But in a jarring dismissal of the allegations against him, El-Rufai explained that: "All land in FCT is State land because it belongs to the FGN. FCT Ministers do not 'allocate land'. They approve allocations that have been brought up after due scrutiny by appropriate professional and administrative officers. And the qualification for being allocated land in FCT derives from the FCT Act 1976, the Land Use Act 1978, Federal Executive Council Guidelines on allocation of land 2004 and FCT Land Use Regulations 2004. These are publicly available documents. Start with them and ask me questions," El-Rufai said in a tersely worded response to questions from Huhuonline.com on the issue.
In his view, the case against him is tantamount to a witch-hunt by the anti-graft agency, coming as it were, after an audit by two renowned chartered accounting firms – Akintola Williams Deloitte and Aminu Ibrahim & Co established no wrong-doing on his part. It is worth pointing out that the said audit concerned the sale of Federal Government Houses in the FCT, and not about the allocation of plots.
The anatomy of the contention, according to the documents, was the decision by El-Rufai to allocate plots in an area earmarked for the construction of power stations in the Asokoro district to his family members.
http://www.huhuonline.com/index.php?option=com_content&view=article&id=754:land-allocation-nasir-el-rufai-family-a-abuja-master-plan-&catid=1:latest-news&Itemid=18
In a memo addressed to the Director of Engineering Services at the Federal Capital Development Authority, (FCDA) dated January 26, 2007, Julius Berger Nigeria Plc pointed out that: "…the area sub-divided into plots 3375 to 3384, 1196 and 1198 to 2000 shall be reserved for a 132/33KV transformer station according to the Abuja Master plan." Allocating plots in this area, in the view of the construction company was "tantamount to a breach of the Master plan…kindly advice, whether we shall continue with the design of the infrastructure and/or which provisions shall be made for the transformer station." The memo was signed by R. Jonas and H. Muller-Spath and copied Mr. Abubakar Sulaiman; FCDA acting Director of Urban and Regional Planning.
To which end, the Director of Engineering Services, Engr. S.O.U. Ugonabo, FNSE transmitted Julius Berger's concerns to the Executive Secretary of the FCT. In another memo dated February 1, 2007 (five days after the Julius Berger memo); a copy of which Huhuonline.com obtained from FCT sources, Engr. Ugonabo noted that "the 132/33kv to be constructed on the plot is designed to provide bulk power supply to 4Nos 33/11kv Injection Substations located in Asokoro district of the city…three of the Injection substations namely XV, XVI and XVII have already been constructed, but presently they obtain power from a temporary source. The only one not yet constructed is XVIII which is on the same plot with the 132/33kv transmitting station…This implies that by the time when the two substations in Guzape will be completed, then six (6) substations will be hooked to this 132/33kv (02) Transmitting Stations."
He was unequivocal in reminding the Executive Secretary that: "the conversion of this plot to another use instead of what it was meant for is a distortion of [the] Master plan that will adversely affect the bulk Power Supply and distribution to the City, and it is worthwhile that an alarm be raised at this point in time stressing the undesirable consequences of this distortion."
In this connection, the Executive Secretary, Engr. M. S. Alhassan, FNSE, proceeded to brief El-Rufai on issue. In a memo dated February 6, 2007, a copy of which was also obtained by Huhuonline.com from FCT sources, El-Rufai was made to understand that "converting this plot to another use instead of what it was meant for is a distortion that will adversely affect the bulk of power supply and distribution to the city."
The memo, which El-Rufai received on February 9, 2007 reiterated the concerns expressed by Julius Berger and was emphatic in its conclusion that: " in view of the undesirable consequences of altering the land use of this area, which definitely will be obvious in future, Mr. Minister may wish to consider reversing the approval granted to redesign the area and return the land use to status quo."
Judging from the hand-written instructions on the memo, it appears El-Rufai had been induced into error into allocating the said plot for private residential use. It is evident that El-Rufai was confused and could not explain how he could have been made to commit such a gaffe; and was seeking advice from his collaborators. (see copy of memo attached to story)
Questioned about the Julius Berger memo and the issues raised, El-Rufai was unapologetic: "Julius Berger is not a 'professional adviser' but a contractor. I engaged them to build roads for FCT not to advise me on any matters. I am a chartered quantity surveyor - that is a professional on the built environment, not an illiterate - a contractor cannot be an adviser due to inherent conflicts of interest. And only professionals in land matters - surveyors, planners, architects - for instance, are considered relevant 'professionals' in land matters," El-Rufai insisted, in his written response to questions from Huhuonline.com.
To view supporting documents,click or copy and paste on your browser
|
Article source