Senate Assures of Adequate Preparation in Osun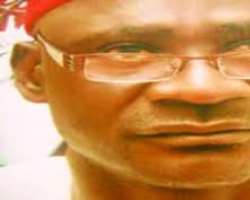 Senate Assures of Adequate Preparation in Osun
The Senate yesterday assured Nigerians of adequate preparation for Osun State governorship election scheduled for today.
The Senate also described the Osun election as the test case for all the parties, the electorates themselves, the security agencies and also determines what would happen in 2015.
The Senate Committee Chairman on Police Affairs, Senator Paulinus Igwe, stated this yesterday while briefing journalists on the security preparation for Osun governorship election.
"I want to assure Nigerians that adequate arrangement has been put in place to ensure that the Osun election is free and fair. INEC is doing its job but the security is doing more because without security, there will be no election.
"After my interaction with the new IG, I came to the conclusion that Nigeria Police is ever ready to guarantee the security of lives and property of the people of Osun State on Saturday during the gubernatorial election.
"I have no doubt in my mind that the election in Osun State in terms of provision of security, in terms of other arrangements will be better than that of Ekiti. This election is the test case for all the parties, the electorates themselves, then the security agencies and this election will also determine what will happen in 2015.
"All of us particularly the press should brace up to this challenge and report verbatim what is on ground so that the people outside Nigeria will not take Nigerians as people who are riggers of elections," he said.
Senator Igwe added that if elections were conducted in a transparent manner, of the nature of Ekiti state  and security was provided, a better candidate will always emerge.
"When I went to Osun, I did not see any act of movement by the security agencies, the Army, Police or the SSS which showed that they targeted somebody to be arrested. And let me tell you, if you are not prepared for elections, you will be preparing to cause confusion so that the election will not hold and I want to assure you, with what is on ground today and what will be on ground tomorrow, the election will hold.
"The security agencies particularly the police, I have not heard anything from them and I have not envisaged that they are going to arrest somebody who did not commit any offence. This election if you think you will bring in thugs and kill people you will be arrested; whether you are PDP, whether you are APC or any party at all. So nobody should run out of the law because you want to tell Nigerians that they want to rig elections," he said.
Thisday