Adewale Adeogun: The Grassroots Educationist With Astonishing Legacies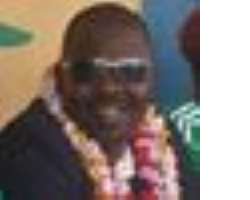 By Saturday 5th January 2015, Hon (Alh) Abduljelil Adewale Adeogun, the present Education Secretary of Ajeromi- Ifelodun Local Government Area of Lagos State will be marking his 50th years on earth, but the news is that he has able to improve on grassroots education than his predecessors.
The third edition of Ajeromi-Ifelodun LGEA Merit Award and Valedictory service held on Tuesday 22nd July, 2014 at Unity Primary school in Awodi- Ora, Ajegunle, Lagos State was another educational feather added to Hon.Adewale Adeogun numerous legacies in the local government since he was appointed as the' Education Secretary'.
In one of the recent interviews granted to Hon. Adewale Adeogun by the Mindset Media Limited at his palatial office, he stated that the only thing that makes him excel more than his peers is that he does not allow his uncompleted assignment to get to the next day, that means he works with time and vision.
Few decades ago in Nigeria, precisely teachers were seen as church rats while some tagged' teachers as their reward in heaven but Hon. Adewale Adeogun's emergence as the distinguished Education Secretary of Ajeromi-Ifelodun LGA changed that axiom to tag teachers reward are on earth'.
His appointment as an Education Secretary was just to give him first opportunity as a young man but he decided to prove his critics wrong that teachers are met to work and achieve success in life. His numerous achievements led to the recent selection as the Chairman of Education Secretaries in Lagos State. He controls 76 primary schools but 4 schools are defective.
Four years ago when Hon. Adewale Adeogun resumed office as the Education Secretary of Ajeromi- Ifelodun, the total population of pupils were 22,000 and now is 39,000. One thing about Adeogun is that, he has a committed team that works with his vision to grow in all ramifications.
In his speech at third edition of the LGEA's Valedictory service/ Merit Award Ceremony of the outgoing Basic Six Pupils, Hon. Adewale Adeogun highlighted some of his achievements which his noble administration has done to Ajeromi- Ifelodun primary schools. His first port of call to refurbish his office that looks like where rats reside before and decided to make his leadership relevant in the local government.
He is not just a celebrated educationist but a sports analyst cum politician.Ajeromi-Ifelodun public schools that used to be schools for dull brains and hooligans now winning both national and international awards all from a man that values grassroots education to the core.
The fact remains that Adewale Adeogun is a teacher that respects his profession. It is now difficult to differentiate between public and private school in Ajeromi-Ifelodun LGA because of Hon. Adewale Adeogun's innovations on grassroots education. The grace of educational achievement could be seen from his total humility displayed by one man called Hon. Adewale Adeogun as the Education Secretary since 2010. He once advised his teachers to write books and create history in Nigeria.
Today, Ajeromi- Ifelodun public schools have access to school farms, computers and others to improve on quality teaching and knowledge on the pupils. The improved co-operation of NUT, ANCOPSS, AOPSHON and NASU also helps Hon. Adewale Adeogun to grow his leadership. He has used his position to partner with some NGOs such as ESSPIN, British School and MDG to improve on professional development on the learners and teachers. Ajeromi- Ifelodun pupils remain the best in grassroots sports and debate competition in Nigeria through the efforts of LGEA officials.
Hon. Adewale Adeogun has received over 100 national and international awards to his credit and ready to receive another international award by August in USA. The introduction of the' GONG Magazine ', a publication of Lagos State Universal Basic Education Board by Hon Adeogun is a means to enlighten parents and pupils to take their education to the next level of achievements.
With his present status of life he still humbles himself to the people. Hon.Adewale Adeogun'achievements will not be completed if the likes of Governor of Lagos State, Babatunde Fashola, Hon, Kamal Ayinde Bayewu , Executive Chairman Ajeromi- Ifelodun, LGA, Hon. Shuaib Fatai O. Ajidagba,Executive Chairman Ifelodun LCDA, Eze Oparah, Eze- Igbo of Ajeromi- Ifelodun and representative of SUBEB, Baale Kayode Okunlola, Akeresebrin 11 of Ibafon town,Dr. Abiola Ajijola, the First Executive Chairman of Ajeromi- Ifelodun LGA, Mrs Gbolahan Daodu and Rt. Hon. Adeyemi Ikuforiji, Lagos State House Assembly Speaker are not mentioned. They remain his loyal mentors that support his noble vision to excel in life.
Hon. Adewale Adeogun's meteoric rise in career can also be traced to both grassroots and conventional newspapers like the Commoners, the Image Weekend, Mindset Media Limited, Nigerian Voice, Peaklinesports Magazine, Modern Ghana, African Mallam Entertainment, Project 13, the Catalyst, Inside- Ajeromi Newspaper, Lagos Beat, the Reality, the Nation and just mention but a few. Ajeromi- Ifelodun primary schools that used to resume 7:30am/7:40am now resume by 7:00am Pupils now dress neatly to their schools unlike those days were Ajeromi- Ifelodun schools were seen as unkempt schools without vision. He is worthy to be emulated in all levels of leadership. Hon. Adewale Adeogun is a politician with integrity. He is a detribalised educationist and loved by his fellow teachers in Ajegunle and beyond.
Hon. Adewale Adeogun is one of the grassroots educationists that are socially active on the media and the only progressive educationist Ajeromi- Ifelodun has ever produced. He has featured in various electronic media discussing on sports and national issues in Nigeria. He is a creative educationist with credibility. "Who says Hon. Adewale Adeogun cannot be appointed as the Education Secretary for the second term to continue his noble programmes for Ajegunle pupils and teachers.
Due to his commitment to grassroots education, Mindset Media Limited recently added him to the Mindset Media Hall of Fame Leaders, Innovators and Entrepreneurs for 2014/2015. He is the only Nigerian educationist that receives meritorious award every hour, week, month and year. He has used his position to purchase free Jamb and GCE forms for indigent students in Ajeromi- Ifelodun LGA and always conducts one day acting Education Secretary to any pupil that passes the Spelling Bee Quiz competition. He is happily married to a beautiful wife and blessed with lovely children.
Godday Odidi Public Affairs Analyst/ Mindset Media Limited 08058124798, Lagos