Remarks With African Union Commission Chairperson Dr. Dlamini-Zuma Before Their Meeting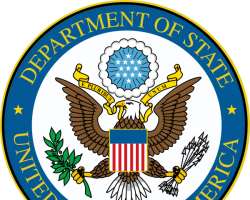 WASHINGTON, August 6, 2014/African Press Organization (APO)/ -- Remarks
John Kerry
Secretary of State
Treaty Room
Washington, DC
August 5, 2014
SECRETARY KERRY: Let me just say to everybody that it's a huge pleasure for me to welcome Dr. Dlamini-Zuma, who is the chairperson of the African Union. And it's fair to say that the United States has a very special relationship with the African Union that we respect and appreciate enormously – in fact, so much so that we are the only – we are one of only two countries that have sent a U.S. mission to the African Union outside of Africa, African countries themselves. So we're proud of that. We're proud of the work we're doing to develop democracy, to work on economic development, on human rights, on security. And this has just been an essential value added to our ability to be able to find cooperative channels to deal with crises, to bring people together, to convene, and to help chart a path forward.
So Dr. Dlamini-Zuma, I'm really pleased to see you. Thank you. And I was very appreciative of your comments a moment ago about the energy and the sense you feel from this conference that you see Africa being treated as an entity and here as Africa, which I gather makes a difference to you.
CHAIRPERSON DLAMINI-ZUMA: Yes, I think it does, because I think to some extent Africa is sometimes seen from the – what catches the news. But I think this week, we are discussing more about the substance of Africa: what it can offer through the cooperation with the government, but more importantly, what it can offer to U.S. investors coming to Africa and what it can offer to businesspeople who really want to get – do business in Africa; to financial markets who want the best return. I think the best return is in Africa.
SECRETARY KERRY: Well, it's proving itself now.
CHAIRPERSON DLAMINI-ZUMA: Yes.
SECRETARY KERRY: Anyway – well, thank you for being with us. We appreciate it. Thank you all very much.