I'm not yet a legend: Lahm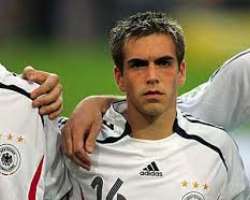 I€™m not yet a legend: Lahm
LAHM
Philipp Lahm captained Germany to their fourth World Cup triumph in Brazil and has won the UEFA Champions League. Having achieved his professional goals, Lahm has nothing more to prove, neither to the rest of the world nor to himself. And he is still only 30. In this interview with FIFA.com, the Bayern Munich player speaks about Brazil 2014 and retirement from the national team
You've decided to retire from international football. How does it feel to be a living legend?
I'm definitely not there yet, but it's nice to be in such exalted company.
How has football changed Germany?
I don't know whether the country has changed football or football has actually changed the country. I think the two go hand-in-hand.
1954, 1974 and 1990 are generally seen as turning points in Germany's post-war history. What will 2014 ultimately stand for?
If I was to take the team as the crucial factor in 2014, I'd say it stands for stability, a willingness to deliver and community spirit. The team has boundless ability, the blend is good, and talented newcomers are waiting in the wings.
The world used to grudgingly admire the Germans, but has recently fallen in love with them. What's your response to this wave of global affection?
I think my team and I have earned great respect and recognition. The affection is based on what we've achieved and our fair play.
It's taken 10 years to get there, but now you've not only won the World Cup, you also typify a new generation of players. What are the hallmarks of this progressive brand of players?
We've definitely benefited from considerable investment in youth development in Germany over the last 10 to 15 years. Every Bundesliga club operates an elite academy, training has become more intense and professional and we have full-time, fully qualified coaches. Every German footballing generation has produced good players, but we've also caught up tactically in recent years. Our success at the World Cup is down to the structures put in place by the German FA in partnership with the clubs.
Pep Guardiola has described you as the most intelligent player he has ever managed.
That I don't know, but I do know it's an immense pleasure to talk abou in minute detail with Pep Guardiola. It's a unique experience.
The Observer praised you and rated you on a par with Lionel Messi. Why did it take so long for the footballing world to recognise your potential?
I've always had coaches who valued and supported me, and I also have the feeling the supporters like the way I play and approach the game. I think I get plenty of recognition.
During the World Cup pundits and commentators kept saying "he never makes mistakes". When you played for Bayern against Hertha Berlin in the Bundesliga last season you finished with 100 per cent pass completion, with all 133 passes reaching their recipient. How do you achieve that?
It comes from feeling good and comfortable on the field. And you only get that if the coach and the team understand each other.
What are your weaknesses and how could you be "more perfect"?
I can reveal that as a left back I had difficulty defending well-struck crosses with my left foot. So I don't play left back any more. As for my weaknesses as a right back and holding midfielder, I'm definitely not going to reveal anything. It's up to my opponents to find out.
The only thing your fans would appreciate from time to time might be a goal. Why do you so rarely shoot?
Well, as a defensive midfielder and full-back you're more likely to be providing goals than scoring them. It's in the nature of the position, and it's where I feel most comfortable, because I've never been much of a finisher.
You've been a strong influence on the way Bayern play for many years now. How much Lahm is there in Low's Germany?
A team can only be functional if the coach has a clear vision and then works with the team to implement it. You need players who are capable of doing their jobs, and correcting any errors, and this can only work if there's a dialogue. Even the best system only works if it is capable of change. It has to be flexible enough to accommodate individuals but rigid enough to instil a collective and coherent way of thinking in the team.
How mature are you now, as a person and player?
You can always improve some aspect of your game as a player, but I do believe I've reached a pinnacle due to my experience and the quality of my decision-making. As a person I still regard myself as a young man with role models such as parents, family, friends and acquaintances. I can still pick things up from them.
You've said maturity means taking every chance on offer. How would this theory apply to everyday life?
I said that about my life as a player. It's a quality you can't illustrate with a specific example, because experienced, determined and theoretically mature teams miss chances and always need a little bit of luck. But they also have an unshakeable belief in their own ability, and this belief in your own strength takes years to mature.
Was there any moment in Brazil when you doubted your own maturity or even that of the team?
No, the task during that kind of tournament is to promote a belief in yourself and in the strength of the team. There's no room for doubt.
Did you know before arriving in Brazil that the 2014 World Cup would be your last major international outing?
Yes. I slowly but surely came to the decision in the course of last season. I knew I would retire from international football after the World Cup.
Which do you enjoy more, exercising power or taking responsibility?
Neither the one nor the other. I'm driven by a sense of responsibility for things being done well. That doesn't exclude stating your position, taking the initiative and making decisions. It's the same for everyone who accepts responsibility.
Why does the leadership role matter so much to you? And what are the trademark attributes of a modern manager?
What matters to me is stepping up to the plate and making a contribution to a successful enterprise. And if you accomplish that on an ongoing basis you become a kind of role model, capable of influencing the team, the coach and the club. That's what I would call modern, if you like.
What have you taken away from Brazil? And don't just say the trophy!
The people's inspirational passion for football.
With the exception of winning the World Cup, what was your second best moment in 10 years with the national team?
My first international, being called up for it, being out on the field for the first time and hearing the German national anthem. Every young athlete dreams of representing his or her country, and it's what you dream of as a kid.
Why have you announced your retirement at this point in time? What about the fact you lack a winner's medal from the Euro?
I'm happy and grateful that the end of my career in the national team coincides with winning the World Cup in Brazil. For me personally it's simply the right time to stop.
Three years ago you set yourself the targets of winning the Champions League with Bayern and the World Cup with Germany. You've hit those targets, so what now?
I don't know yet. I'm only 30. I'm off on vacation now. And after that I'm looking forward to coming back to Bayern, because I still really enjoy playing football.
Agency reporter