Amosun as failed in Ogun; Jonathan is best candidate for 2015 -Gbenga Daniel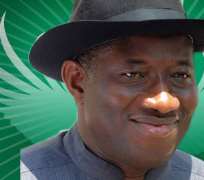 A former Governor of Ogun State, Otunba Gbenga Daniel has again dismissed accusations that he committed fraudulent acts during his eight years tenure.
'I, Otunba Gbenga Daniel did not steal one kobo from the accounts of Ogun State. I call on anyone with evidence that I did to come forward,' he told newsmen in an interview.
According to him, the Economic and Financial Crimes Commission, EFCC, up till date has yet to nail him on a single charge out of all proffered against him.
'They kept me in detention for ten days and could find anything. We are in court so I won't really say must as my comments may be prejudice to court proceedings. However, I am innocent and we will prove that.'
On the murder of Chief Dipo Dina, an aspirant on the platform of the defunct Action Congress, AC, in 2010, OGD said he was glad that the suspected perpetrators were caught as some persons had thought he was behind the mastermind.
He insisted he never ordered the killing of anyone in his entire life, wondered why some persons thought he took out someone that was never a threat to him.
'Those who said so are mad. Look at that building (pointing to a neighbouring structure), it is the house of Chief Dipo Dina's uncle, a very good man. Dipo was a good friend who comes to my house and vice-versa even before I became governor.'
'When that incident happened, I looked up to God and told him to unravel the killers. I am glad they are behind bars and that was why I raised an alarm when they said Amosun was visiting prisons to free suspects.
'I told the world that those guys must not be released because we are all interested in knowing those who cut short the life of a brilliant businessman, a fine gentleman and an illustrious son of the soil.
'Till date, the state, government, the state Director of Public Prosecution and the state Attorney-General have maintained silence on such a burning matter. Isn't this curious? You people (pressmen) should ask Amosun an update on the case. It is your job.'
Rating the tenure of incumbent governor, Ibikunle Amosun, Daniel lamented that he was yet to construct new roads, insisting that his successor only completes roads he met or expands them.
On health, the Ogun Labour Party, LP, leader accused Amosun of deceiving the people with the much publicized free healthcare, saying the reverse is what obtains.
He expressed bitterness at situations whereby the sick, pregnant women and nursing mothers are asked to purchase costly drugs that should be subsidized.
On education, OGD lambasted the All Progressives Party, APC-led government for contemplating the scrap of the institutions he upgraded or built.
'Did you all know that tuition fees are now gold in Ogun. During campaign, he deceived parents and students that he would cut fees, but as I speak, he has increased payments by at least 100%.
'I created the first University of Education in Nigeria (TASUED); I built Schools of Technology; I upgraded a number of institutions to make them what they are today. But because we have a man who just do not like OGD and anything associated with him, Amosun wants to destroy legacy projects generations would enjoy,' he said.
Commenting on his political future, the ex-governor said he has no ambition for now and that he was more interested in helping to install credible man as Ogun helmsman come 2015 general elections.
'I have no ambition. What I am particular about now is to work other stakeholders in any party to oust the disgrace of a government we have in place. This administration doesn't even have a plan for the future. None. Take a critical look at its policies and show me one you think will stand the test of time.
'Did you know that this government has borrowed over N200billion to execute projects? It constructed the bridge at the popular roundabout in Abeokuta for N5billion. During my tenure, all Aliko Dangote required of Ogun government was to construct a N5.6billion road to link his proposed USD9billion petroleum refinery complex and fertiliser plant.
'But we couldn't. In fact, it was one the reasons - the cargo airport was another - I wanted to take that bond the House of Assembly opposed. Had it taken off, that project, perhaps the privately-owned biggest project ever in this country would have started boosting investment and industrial development in Ogun.
'The figures are quite attracting. This is a landmark project that will produce 400,000 barrels per day, create about 20,000 jobs during construction and engage 8,000 engineers and other professionals.
'Governor Amosun met the plan when he assumed office and guess what he did(?), he looked the other way simply because it was OGD who was there when Dangote brought up the idea.
'Probably out of anger or lack of cooperation from Amosun-led government, that project was taken out of our dear state to where it is situated now: the Lekki Free Trade Zone in Lagos. Sadly, we lost that opportunity because of one man's pride.'