Neymar father in tax fraud probe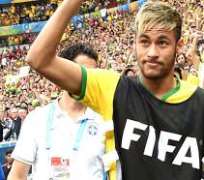 (AFP) – Brazilian striker Neymar's father will have to appear in court as a witness as part of a probe into possible tax crimes over Barcelona's 86-million-euro ($117 million) signing of the player, a Spanish court ruled Wednesday.
Judge Pablo Ruz of the National Court issued a written summons for Neymar da Silva Santos Sr and Barcelona financial director Nestor Almela to appear on October 1.
The judge also asked Neymar's father to hand over contracts and documents relating to his son's signing with Barcelona last year.
The judge is looking into allegations that Spanish tax authorities lost out on up to 11.8 million euros ($15.8m) in total related to Neymar's deal with Barcelona.
A tax office report cited by the judge listed lost revenues of 2.4 million euros in 2011; 6.8 million euros in 2013 and as much as 2.6 million euros in 2014.
The Neymar transfer case was started by one of Barca's own members, Jordi Cases.
He accused former Barcelona president Sandro Rosell of misappropriation for not declaring publicly that 40 million of the 57.1 million figure initially quoted by Barca was paid to N&N, a company controlled by the player's parents.
Rosell resigned from Barcelona in January.
The club then revealed that the entire cost of the operation including Neymar's signing bonus, commissions, marketing deals, a donation to the player's foundation and other agreements totalled 86.2 million euros — far above the 57 million euros first announced by Barcelona.
As a result Barcelona were then indicted for alleged tax fraud linked to the signing.
Rosell defended the legality of Neymar's contract during questioning as tax crime suspect in the case at the court last week.
Barcelona managing director Antoni Rossich also argued before the court that Neymar's contracts respected the law.