3 die as female suicide bomber attacks Kano Poly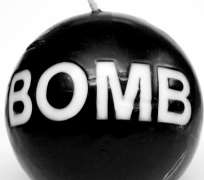 Three persons died, yesterday, while seven others were injured when a teenage female suicide bomber blew up herself at the entrance gate of Central Administration of Kano State Polytechnic located on BUK road where final year students were perusing the NYSC mobilisations list for Batch B Corps members.
Eyewitness said that the incident occurred around 2.30p.m when a crowd of students gathered to verify their postings.
The account further explained that the blast triggered pandemonium in the school as students, academic and non-academic staff scampered for safety.
The security operatives later cordoned off the affected part of the busy BUK road to pave way for preliminary investigation.
Commenting on the incident, the Commissioner of police, Kano, Mr. Adelenre Shinaba confirmed that three persons died including the suicide bomber.
Shinaba further disclosed that seven others sustained injury during the blast, adding that the affected persons have been evacuated to the clinic.
The police boss said that 'the teenage female suicide bomber sneaked into the crowd and detonated the Improvised Explosive Devise she concealed.'
According to the police, the impact of the blast blew the suicide bomber into pieces, adding that the charred remains of the female suicide bomber has been deposited at the morgue.
He tasked citizens to be extra-vigilant and report suspicious movements to security agents for proactive action.
This brings to four, the number of female suicide bombers, who carried out bomb attacks in Kano in one week.
Meanwhile, bombs planted in two mosques exploded, Tuesday evening in Yobe State killing a yet to be confirmed number of people.
The Yobe Police spokesperson, Nansak Chewang, confirmed the bomb attacks in Potiskum, one of the largest towns in the state.Mr. Chewang told the News Agency of Nigeria, Wednesday that the police were still working on the details to know the casualty figure.
'We are still working on the details to get the authentic figures of casualties in the bomb attacks in Potiskum,' he said.
Bombs planted in two mosques had exploded at about 7.30p.m., Tuesday, when Muslims in the area were preparing for the evening prayers.
Though no group has claimed responsibility for the explosions, they were believed to have been carried out by the Boko Haram whose activities had caused the death of over 13,000 people in Northern Nigeria.
Yobe, which is one of the major bastions of the Boko Haram, and alongside Borno and Adamawa, has been under a state of emergency since May last year. - Vanguard.