I'm Not Jealous Of Anyone In Nollywood—Mosun Filani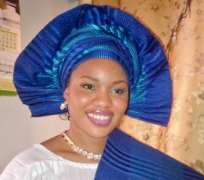 Nollywood actress, Mosun Filani, has thanked God for her ability to have remained steadfast in the industry this long considering the challenges with it.
According to the actress, it wasn't easy for her to have been able to stay this long recalling her challenges as an up and coming artiste where she could not get some movie roles because she has not been seen in previous casts by directors.
'I faced a lot of challenges. As an upcoming actress, some directors won't give you the chance to take up a role simply because they have not seen your performance before but I thank God today because God has been with me all along. I was steadfast and prayerful because I knew I could do it. I knew I had the talent so I persevered. Today, God has crowned my efforts with success,' she disclosed.
Mosun noted that ever since breaking into limelight, she does not feel intimidated by fellow acts and just tries to be unique in her own way without crossing other's part.
'I don't feel intimidated by other actresses because we are all unique in our own way. With the grace and mercy of God, I have always been on top of my game so; I don't have to be envious or jealous of anybody in the industry,' she explained.