Pains in love is my life story says Shola Oyeyinka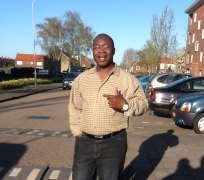 Shola Azeez Oyeyinka is a private inventor of games and toys who was born in Edo State of Nigeria. He started his creative writing as a twelve old boy, a journey that brought him into limelight in his school days at Government High School, Ilorin, Kwara State, Nigeria. He wrote a number of plays that was dramatized in the school. He took part in scriptwriting of the Angola Twins by Casting International Amsterdam some few years back. He has worked with Precious games and toys Amsterdam as a professional inventor of African games. Shola A. Oyeyinka has written many other scripts yet to be published. Pains In Love is his first published book but he promises to release more of his best writing in the nearest future. The author lives in The Netherlands and happily married with a blessed child.
He spoke in this interview with The Nigerianvoice.com
TNV: Short introduction of yourself?
Oyeyinka: My name is Folorunshola Azeez Oyeyinka. I was born in Edo State, Nigeria into a family of three brothers and a sister. Ours is a beautiful and most loving family that knew the essence of togetherness. My father is a Yoruba man from Abeokuta, Ogun state and my mother from Edo state of Nigeria although we grew up with the Yourba language. Though my mother, sometimes get angry at us for not taking her language (Edo) a little more serious as we do with the Yoruba language. My parents were business people; a distributor with the Nigerian Brewery makers of Guinness drink in Benin City. I attended Government High School, Ilorin. Kwara State, Nigeria finishing with a good grade. (WAEC). I travelled to Germany for further studies in Engineering, but could not complete the course, due to an unexpected circumstances that changed my story, in fact those circumstances form the bases of my story in 'Pains in Love'. I fell to an illness, and l was immediately flow back home for treatment.
TNV: When did you discover that you love to write?
Oyeyinka: Story telling has always been what I truly enjoy doing since I was a boy. I remember how I used to sit beside my mother after dinner especially on weekends. I will make out a beautiful story and tell it to her. Many times, she would not only feel the impact of the emotions but also she shed tears as she is touched by my stories. As time permits, I tell her more stories which she enjoys listening to. She was my first point of contact to identifying my talent. As a mother, she kept on praying for me, asking God to help transform my gift of storytelling into what the entire world would appreciate. According to her, not everyone with a good talent would have the opportunity to pursue it or be known for it. She is a great inspiration in my life, at least if nothing else, she helped me to identify my gift and made me know the important of what I have at hand. The same way I used to tell my stories, I started writing them down and today I have made one into a book and there are many more to follow.
TNV: What motivated you to write your first novel 'Pains in Love?'
Oyeyinka:'Pains in love' is not my first book. I have written several other stories including collection of poems. Notable among them was one I titled 'Tears in the dark' which I sent to a publisher in the UK but I was scared away with the huge amount for publishing. I thought I would never be able to realize my dreams of publishing my books. 'Behind the wall of thoughts' was another collection of poems I compiled when I was living in Germany, it is one of the greatest inspirational work I have done so far in my life. They were not ordinary poems, but a truly gift of nature but again, I lost it to another Publisher in UK, under the same publishing guise, payment first or no printing. Well, I see it as part of life experience. I have always believed in getting one's work across on merit and not for a cost for publishing. Well, I guess life has turn on a new page. To your question, life is a continuous process of learning until we actually get to where we are going. That is the hunch that leads to my writing my book, 'Pains in love', and a recount of life experiences interwoven into a relationship and the problems that goes with it. I will encourage you to read the book for yourself to discover the reasons for the writing, it is self-explanatory.
TNV: Is this something from your personal life experience?
Oyeyinka: 'Pains In Love' is not a work of fiction. Though as a writer, it is not possible not to garnish a story in such a way that would attract storm to a reader's mind. It is part of the gift of expression however, it is a true life story that needed to be told. A barricade side of my love life which has advance my knowledge about the opposite sex. An occurrence that defines love and pains living on separately in the same world of knowledge. One can never know it nor feel the bitterness, except if one is in the deep.
TNV: Who are those you want to read this novel and what is the message in it?
Oyeyinka: Pains In Love is a story that deals with a universal problem. As long as human beings must have to coexist between one another, there is a reason to live in love and peace. Unfortunately, like I said earlier on, individuals, groups and nations are now polluted in their thoughts of reasoning, thereby giving way to a self-destruction life style. 'Pains in love' is a must read novel to everyone regardless of age. Apart from the fact that it is a true life story that spares the life of Paul in order to express his experience, the message in his story is truly amazing. There is no way a reader would skip a page without wanting to know what's behind or next.
TNV: Do you plan to write more books, and if yes, how soon?
Oyeyinka: Writing a book can be compared to a man undertaking a journey in life. The heart of a writer never stops carousing on spelling the image of time. The journey of a man that writes started yesterday when he took a cab, and today, yet on the same journey that took him on a train along the bridge of time where the message never stop troubling the mind to be revealed. Yes. I will keep on writing as long as I am inspired to do so. And it will take no long from now to have my second book in the market. But before then, I want 'Pains In Love' to enjoy a wider network of coverage around the world, and which I think is already becoming the case as I speak now.

TNV: How can people get this book to read?
Oyeyinka: 'Pains In Love' is available at all online stores. It can be purchased through the following means:
a- From all American book Shops in Holland
b- Directly on line from the publisher: www.trafford.com
c- Directly on line from Amazon
d- Directly on line from Barnes and Noble
e- Directly via google (Type Pains In Love)
And very soon, it will also be available in Ako shops and Bruna across cities in the Netherlands.
TNV: What will be your advice to young writers?
Oyeyinka: Well, I am also a young writer at this point in time but I do have some advice for my co-young writers. One, do not write simply because a friend of yours is a writer, if that is his or her talent, you cannot copy it, try to discover your talent or gift. Also do not be carried away in your chosen field of writing, a friend told me that since you have published your book, you have become a millionaire now. I just smiled at him because that is the notion many people has concerning you publishing a book but that it not true so don't get disappointed when the money does not come so quickly. First build a fan base in your writing style, and open your door to a world of criticism. Thirdly, you have to learn to write to communicate to your readers, writing a book is not an academic exercise to show off how good your English language is, your writing should be communicating to the readers and if your readers can't make sense from your writing then it is a problem
TNV: What has the experience being like now that you have the book published?
Oyeyinka: It is such a wonderful feeling to see my book in print. A ponderous joy of accomplishment, and a satisfaction of joining the league of authors around the world. The book suddenly becomes like a new baby that needs a nursing care to grow. That is where another challenge comes in for me. You see, the bitter truth is that, getting your book in print is just the beginning of the journey. The best deal an author can get from a publisher is to secure a partnership agreement, that is, for the publisher to contributed financially or whatever towards getting the project done. That means, 50/50 on the line of production and marketing. Unfortunately, it's often not easy to secure this kind of deal with a Publisher. Most of them prefer the writer to carry his own burden. This bring you now to a print and demand system of publishing. A system where the writer does the whole work by himself. From series of packaging payments, and self-editing if need be. The publisher can also charge payment for a constructive editorial scrutiny if the writer wants, of course that is optional but it all cost more money. What I am simply saying is that writing a book does not automatically means smiling to the bank the next day or month. Yes, you have definitely sold out your name to the world as an author thereby joining the world of creative writers and developing a fan base for your book, if mother luck shines on you, you can make it quickly or it is a slow and steady journey
TNV: We truly wish you success with your book and we shall be reading much from you soon
Oyeyinka: Thank you so much for this interview and I would make one last request, kindly follow me on twitter, Linked In, Good reads and Face book. Hope to see you online again.