The Failure And Doro-Ebola Problem Of Northern Nigeria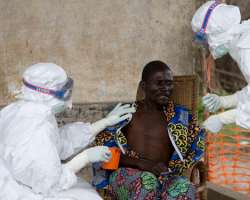 'The Sultan added, 'We northerners have put ourselves in a quagmire, because whatever that is happening in the North is our own doing. This was because we did not do what we are supposed to do. And since we know that, we have to solve our problems ourselves.'
It was Kenny Rogers who sang in his famous Gambler lyrics: 'You've got to know when to hold them, know when to fold them, know when to walk away, know when to run'
That was the advice he claimed he got on one summer's eve while on a train bound for nowhere, where he met this gambler whom when boredom overtook both him and Kenny Rogers, began to speak and summarily educating him on the ethics of gambling, not after gulping down the last swallow of Kenny's whiskey which of course he had wanted in an exchange for the advice.
Nigerians don't know when 'to walk away and when to run' thus they always get things complicated for themselves...we don't know what we want, we have a distorted picture of what the issues are.
And it is worse with us blue blood from the North, we have over the decades in this entity called Nigeria held sway without directing the sway.
Before I am crucified in our usual if it doesn't suit us, 'kill it mood', I will quickly engage us in these few lines, whether they be thought-provoking truth of what the Ebola virus is like, or we treat it like the drama of Dorobucci, a hit song by some Southern dude called Don Jazzy is our business, but truth be told beyond the ebola and dorobucci, the North has failed the North first and failed Nigeria at large.
The quote I started with, from the Sultan of Sokoto and Chairman of the Northern Council of Chiefs and Emirs, and President General, Nigeria Supreme Council for Islamic Affairs (NSCIA) Alhaji Muhammad Sa'ad Abubakar III was at the Northern Nigeria Governors Peace and Reconciliation Committee held last year January 2013, in Kaduna state.
At the meeting, he admonished that we (Northerners) 'sit and talk freely and articulate positions that will bring us out of the quagmire we put ourselves. It is important that religious and traditional rulers from our various states sit together, so that each and everyone of us will talk freely for us to articulate a position as the way out of this problem we find ourselves.

At that event, the Catholic Archbishop of Abuja, John Cardinal Onaiyekan, Bishop of Sokoto, Most Rev. Mathew Kukah and other Muslim clerics were there.

A year gone, and we are in 2014, incidentally January again, and another meeting at the Lugard Hall, Kaduna, this time Emirs, and the leadership of the Northern Elders Forum, with the quest for peace and unity of sons and daughters of the region, as the theme.

The monarchs and the elders deliberated extensively on the security and other challenges confronting the region, with a view to finding lasting solution to the problems.

The Sultan, at the event, blamed the northern political leaders for slowing down the quest for a peaceful and developed region.

The Sultan lamented that after a meeting of the traditional rulers in 2013, they (traditional rulers) presented their position papers to the governors of the security situations in the north and nothing was done about it.

He said, 'In our quest to develop the North because we are northern leaders, first we always try to reach out to our political leaders. I want to put on record here that, even last year, we presented a position paper to the Northern Governors Forum on the way forward to reduce the suffering of our people caused by lack of education, by insecurity and all sort of things.

'The paper has been given to them and I want to draw the attention of the Northern Governors Forum that we are yet to hear anything on that paper we gave them. They should reach out to us to brief us so that we can continue to contribute on how really to sustain peace and development of the North.

So for the benefit of the truth, it is sad to see the All Peoples' Congress APC, blame Peoples' Democratic Party PDP blame the APC, and vice versa, none of them really blaming Boko Haram.

Jonathan blaming opposition, playing the victim, when he indeed is the charge de affair that needs to step up 'positively' his use of his power percentage for a mere 20-40% to a 101% to solve the Nigerian debacle, which yes, he did not create, but most contribute in solving.

However I make bold to say that there is little the man from Otueke can do, as he cannot be more patriotic about the North than richest Northerner, Nigerian, and African Aliko Dangote.

He cannot love the North more than Gen. Theo Danjuma aka 'too much money'. If our Maradonas, our Kwankwasias, if our galaxy of ex-generals and array of serving military czars cannot shine and save us in the North in times like these, we should be indeed ready for more of 'I was the target of the bomb'.

If we cannot tackle Boko Haram, and indeed weep about our own being killed, maimed, and roasted by bombs in Jos, raided by unknown gunmen in Plateau villagers, blown apart in Kaduna, and outhern Kaduna villages, slaughtered in their sleep in schools in Yobe, abducted in Chibok, chased away from villages in Demboa, Biu, Askira and other parts of the North but we are more concerned about Gaza, then we have lost our heads.

If we argue about the roots, Shagari is a gentleman, Buhari is not a thief, the Sultan is truthful, and blunt, Atiku is providing cheap education in that University in Yola and, and the whole of Benue is harassed by herdsmen, both Fulani and none-Fulani, and all we do is argue amongst ourselves about how gunmen Ibos are involved, or who are the real cattle rustlers, or who is Hausa-Fulani, then we are doomed.

If the issue is how to get power back from Jonathan, or how it must return to the North, we are 'mumu-ing' ourselves and sitting on a doro-ebola, we need to leave Oristejefor, 'left' Amaechi vs Patience, we need El-Rufai, Ribadu, Atiku and co to re-channel positive political cum economic energies to the region.

It is a problem of the North, yes it is, but it will affect the whole nation, I am so sure, if we all do nothing and sit on that wall, but North and South will fail and fall, when and howonly time will tell.
Yours In High Regards
Prince Charles Dickson
234-8033311301, 8057152301
Description: Description: IQ4News youtube
http://www.iq4news.com/
www.amebosayso.wordpress.com
Disclaimer:

"The views/contents expressed in this article are the sole responsibility of the author(s) and do not necessarily reflect those of The Nigerian Voice. The Nigerian Voice will not be responsible or liable for any inaccurate or incorrect statements contained in this article."
Articles by Prince Charles Dickson