TransAsia Airways plane crashes in typhoon-hit Taiwan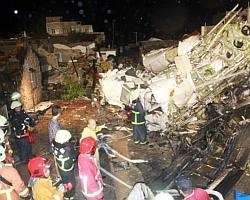 TransAsia Airways plane crashes in typhoon-hit Taiwan
 
 
Tragic incident: Local media reported that TransAsia Airways flight GE222 had smashed into two houses near Magong airport, on the outlying Penghu island chain, after requesting a second attempt to land there. – PHOTO: AFP
More than 40 people are feared dead, 10 bodies recovered
 
More than 40 people were feared dead in a plane crash in Taiwan yesterday, officials said, with witnesses and local media reporting the flight came down in a storm after an aborted landing.
Taiwan's transport minister said that 10 bodies had so far been recovered from the wreckage of the domestic flight, which had 58 people on board.
Local media reported that TransAsia Airways flight GE222 had smashed into two houses near Magong airport, on the outlying Penghu island chain, after requesting a second attempt to land there.
The twin turboprop plane was flying from the southwestern city of Kaohsiung to the island chain further west and had been delayed due to bad weather, according to the authorities.