Gov. Okorocha Declares PGF On Policy Design On Education Open
...As The Group Brainstorm To Find Solution To Nation's Education Problem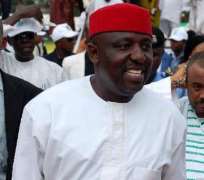 In a bid to find sustainable solution to the Nigeria's educational crisis in relation to unemployment, security, All Progressive Congress, in its lecture series and policy expert designs seeks to solve the puzzle surrounding the bad trend.
Governor Rochas Okorocha of Imo State and the Chairman of Progressive Governors Forum, last tuesday, July 15, 2014 at the Rivers State Government House, declared the Second Policy Expert Design Session of the Progressive Governors Forum open.
Speaking through his deputy, Prince Eze Madumere (MFR), while appreciating the presence of respected experts and commissioners from many of the All Progressives Congress States, he described the gathering as a demonstration of the depth of their commitment to the success of the Nigerian Project.
According to the address delivered by Prince Eze Madumere, Governor Okorocha said that the forum is a task towards rescuing the motherland from misrule of the past.
Reading in parts, " I have no doubts in my mind that your contributions in this policy session will offer a great value to our great party and the country in general. ... We owe millions of Nigerians who look up to the All Progressives Congress a duty to ensure that profound presentations made at the lecture are translated into concrete developmental proposals."
Referring to the PGF last governance lecture, he said that issues and ideas raised will condense not only into practical policy recommendations but will also suggest ways that such recommendations will translate into governance action.
Imo Governor averred that the lecture seeks to build a connect between the dilapidation in Nigeria's education sector and the crisis of unemployment and insecurity. He believes that the expectation is that the policy design session will consolidate recommendations made at the inaugural PDS with the current session holding in Port Harcourt.
Governor Okorocha through his deputy, Prince Madumere, enjoined the participants at the Policy Session to take full advantage of the resources and shared competences and experiences to chart a progressive course out of the crisis of education, unemployment and insecurity currently plaguing Nigeria as a nation.
His excellency, Prince Eze Madumere (MFR) delivering his speech at the Second Policy Expert Design Session of the Progressive Governors Forum, Rivers State Government House, Port Harcourt.
His Excellency, Deputy Governor of Imo State, Prince Eze Madumere with his Rivers State counterpart His Excellency, Engr. Tele Ikuru when the former paid a courtesy call on the Rivers State Counterpart after declaring the Second Policy Expert Design Session of the Progressive Governors Forum open last Tuesday.
UCHE ONWUCHEKWA
CPS TO DEPUTY GOVERNOR
IMO STATE