BANK PHB EX-DIRECTORS RE-ARRAIGNED IN COURT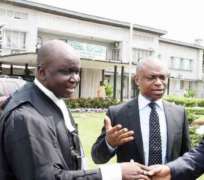 By Odunayo Abiodun
March 24, 2010 12:01AM
Ricky Tofa (San) left, Francis Atuche of Bank Phb (middle) and Charles Ojo of Spring Bank outside the Federal High Court Ikoyi last month
Former Managing Director of Bank PHB, Francis Atuche, along with a former official of the same bank, Charles Ojo, were on Tuesday re-arraigned before a Federal High Court sitting in Lagos, based on an amended 45-count charge levied against them by the Economic and Financial Crimes Commission (EFCC).
This was sequel to the ruling delivered by Akinjide Ajakaiye, wherein he dismissed the applications by the defendants, asking the court to quash the charges levied against them on the grounds that the allegations in the charges are incompetent, frivolous and defective.
Justice Ajakaiye also dismissed the application by Mr. Atuche asking for an order striking out his name from the charge.
Court dismisses applications
While delivering the ruling, Justice Ajakaiye identified two issues for determination: whether there are sufficient bases to try the defendants on the charges preferred against them by the commission and whether the applicants (defendants) have made out a case for the charge to be dismissed.
On the first issue, the judge noted that the defendants based their argument on the premise that they were indicted by way of information. Citing section 33 of the criminal procedure act, Justice Ajakaiye noted that criminal proceedings are conducted summarily and do not require a proof-of-evidence.
'As against the trial by information where there is need for proof-of-evidence, in a summary case, the proof-of-evidence is not required so I agreed with the prosecution that all the proof-of-evidence needed to show is possibility and not certainty.
'Certainty comes in after evidence has been adduced. I am satisfied that the proof of evidence filed consists of high profile documents related to the charge and the statement of the accused, also the statement of the witness incriminates the accused person.'
The judge then dismissed the applications and asked that the plea of the defendants be taken.
Mr. Atuche and Mr. Ojo, pleaded not guilty to the amended 45-count charge, which borders on money laundering and granting of reckless loans. They were asked to remain on their initial bail condition, while the matter was adjourned to June 7, 2010, when their trial will begin.
History
Mr. Atuche and Mr. Ojo are facing trial over an alleged N80 billion fraud. They are also facing trial for their roles in granting a credit facility of N45 billion without any collateral.
The two men were on October 28, 2009, arraigned on a 26-count charge of granting loans without security, granting loans above approval limits, as laid down by the regulations of the bank, acquisition of share capital without prior approval from the Central Bank of Nigeria, and also of not taking steps to ensure the correctness of the June, 2009, BankPHB monthly bank returns.
They had been granted bail before the prosecution filed the amended 45-count charge against them.