Orji Admits Failure: 80% Of Abia IGR Unaccounted For, He Says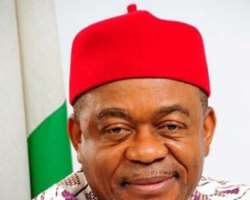 Governor Theodore A. Orji of Abia State has encountered defeats and has accepted defeat and will continue to be defeated. On July 12 this year he cried out very loud that his government is incompetent to man the affairs of contractors it had assigned with the duty of collecting the state's revenue, which has made over 80% of the state's Internally Generated Revenue (IGR) to be unaccounted for.
You can see what we have been talking about! This government in Umuahia is one that its major objective is penny-pinching. If not for its ham-fisted methodology of governance, a mindboggling 80% of the state's revenue wouldn't be missing in the hands of the governor's cronies and stooges. This means that the government in Umuahia is not operational and does not follow the due process in its character of awarding contracts. If it was doing, the state's auditor general would have gone into work and know or find out how an unbelievable 80% of the state's money is missing and, here is Gov. T.A Orji opening his mouth without indignity to say that such has befallen the state.
In an organized environment, unlike ours, the governor would have been speaking from the gulag by now for his gross worthlessness and lackadaisical approach to handling the entire treasure of the people of Abia State. Perhaps, he thought that he was playing politics when he mounted the media to make his shamefaced comment not befitting a public office holder, let alone, a governor, that 80% state's funds were missing.
Governor Theodore Orji as the governor of Abia State has become the brick walls which has kept the people of the state out and their development out too by not showing how they needed good governance badly. He is busy beating the wall when the people want him to open the door. This is how bad it has become in our once glorious Abia State.
Governor Theodore Orji has ended his relationship with our people in and with a failure. There is no amount of his make-believe love to our people which he does with the donation of Keke-NAPEP and cabs to the unsuspecting youth whom many are his cronies and stooges will save him from the pit of hell he has allowed himself and family name in. A periscope on him you will find out that what Gov. T.A Orji wants in Abia State are negative results, which maybe thinks are just as valuable to our people and that they will take them as positive results.
With the governor's mudslinging legs to governance there is every tendency that more failures are ahead in Abia State, because Gov. T.A Orji dreams failure, practices failure and exhibits failure. His reign as emperor-governor is characterized by seasons of failure, things are wrong in our Abia state and more things are getting wrong everyday and our people have been attending the state with huge disappointments; and the annoying thing is that they did not prepare for all these woes.
This Failure called government in Umuahia has opened our people's eyes. We have been failed by their 'Ochendo Global'. In Umuahia, at the maiden Abia State Revenue Summit, where he opened the Pandora's Box that over 80 per cent of the state's Internally Generated Revenue (IGR) is unaccounted for, he perhaps had thought or wanted our people to praise him with his alias - 'Ochendo Global' - that he was a man who makes better speech oblivious that he was revealing how thoughtless and murderous his government is to the collective wealth of Abia people.
If he had thought that the revenue collectors were 'dubious because, according to him, they were not accounting for the money they collect, it then means that his government is the worst hit by the tendencies of dubiousness and foolishness of administration and management. And if the 'dubious revenue collection agents' were not his conduit pipes, what has the enforcement agencies done to them since our 'auditor general-governor' found out the emptiness in the management of funds in the state.
Gov. T.A Orji, from the way he has spoken, does not take the internally generated revenue seriously, because he believes that Abuja will always pay, yet he will be crying and making noise in the media that Abia State receives minute funds from the federation accounts, whereas his government habours the most corrupt government officials that swindle public funds and all that they get for their inglorious work is the peck on their jaws as we can see the governor is doing and showing with his barren speech. Gov. T.A Orji has failed Abia State, he has failed our people and Ndigbo in general and, he thinks that failure is an achievement and not a disgrace. He has missed it by holding our state back.
Odimegwu Onwumere, a Poet/Writer, writes from Rivers State.
Tel: +2348032552855
Email: [email protected]
www.odimegwuonwumere.wordpress.com
Disclaimer:

"The views/contents expressed in this article are the sole responsibility of the author(s) and do not necessarily reflect those of The Nigerian Voice. The Nigerian Voice will not be responsible or liable for any inaccurate or incorrect statements contained in this article."
Articles by Odimegwu Onwumere