Commissioner Decries Sale of Voter Cards in Osun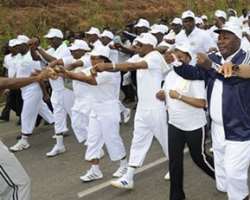 Commissioner Decries Sale of Voter Cards in Osun
Osun State Commissioner for Youths, Sport and Special Needs, Mr. Stephen Kola-Balogun, has decried the alleged collection of voter cards from youths and the elderly people by some politicians across the state.
Speaking with reporters in Osogbo yesterday, Kola-Balogun described the act as undemocratic, wicked and criminal. He urged politicians to desist from such action or be ready to face the wrath of the law.
According to him, "it has come to my notice that some people are currently collecting voters cards of youths in exchanged for N10,000 while the elderly ones are being tricked to submit their voters card for peanuts".
Kola-Balogun pointed out that selling and buying of voter cards is a new approach to rigging and must be discouraged for democracy to thrive.
"As the Commissioner for Youths and Special Needs for the State of Osun, the unfolding scenario is not acceptable, criminal and no reasonable government will watch the vulnerable being dubiously exploited without moving against it", he added.
Kola-Balogun also called on law enforcement agents to investigate the matter and bring to book those found culpable.