PAINTING COMPETITION TO FEATURE IN LAGOS FESTIVAL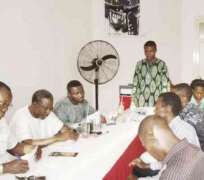 BY TEMITOPE FAGBOHUN
March 24, 2010 02:16AM
Over 100 artists from across Nigeria converged on the Civic Centre, Victoria Island, Lagos, on Saturday, March 13 for an interview conducted by the painting competition committee of the Lagos Black Heritage Festival.
'Lagos, the City of a Thousand Masks' is the theme of the event being organised as part of the forthcoming Lagos Black Heritage Festival starting on April 3. It is a collaboration between organisers of the festival and Italy-based Caterina De' Medici Company.
The competition is an annual event of the Caterina De' Medici Company, but this is the first time it is coming to Nigeria. Representative of the company in Africa and head of the competition committee Foluke Michaels explained that the goal of the contest is to support talents.
She stated that the company realised there are several talented people in Nigeria who should be showcased to the world. Michaels added that the fact that a Nigerian won the overall prize at the last edition of the competition made the company decide Nigeria should host it.
She further explained that the competition wants 'to capture the many realities, and unravel mysteries of the historic city of Lagos and its environment; the warring emotions it arouses in locals and visitors alike. The competition challenges the imagination of the Nigerian artist, brings talents to the fore and expands awareness of the many tendencies of the artistic occupation.'
Medals and dollars
Only 25 applicants will be selected to participate in the festival. They will be taken on an extensive tour of Lagos to draw inspiration for their painterly impression based on the theme of the competition.
The overall winner of the contest will receive a gold medal and $20,000 while the second person will get a silver medal and $15,000. The third and fourth placed winners will also receive silver medals and $7,500 and $5,000 respectively while the fifth person walks home with a silver medal and $5,000. Apart from medals and cash prizes, the winning artworks will be exhibited around the world.
Members of the jury, comprising artists Jerry Buhari, Ndidi Dike and Mufu Onifade, stated before the commencement of the interview that participants will be judged on their knowledge of the theme, artistic background and capacity to respond to challenges.
A member of the organising committee, Akin Adejuwon, reiterated the importance of the competition. He said it underscores the importance of visual arts to the human psyche and noted that the competition is the only event that starts and ends with the festival.