Prof Chukwu: Doctors will call off strike on Monday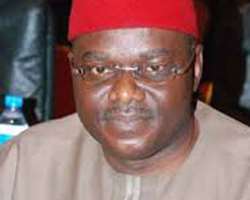 Prof Chukwu: Doctors will call off strike on Monday
•Prof. Onyebuchi Chukwu
Minister of Health Prof Onyebuchi Chukwu, has raised hopes that the gripping the nationwide strike called by medical doctors on July 1 would be called off beginning from Monday next week.
The strike that will be two weeks old on Monday has resulted in terrible medical conditions in government hospitals, with many casualties to boot.
The minister told journalists in Abuja on Friday that after a series of meetings with health sector stakeholders and representatives of the Nigerian Medical Association (NMA) the doctors agreed to call off the strike but on condition that government meets certain key conditions.
The ministers of Labour and Productivity and the Health Ministry held a 10-hour long meeting with NMA Friday.
Professor Chukwu who restated the Federal Government's commitment to the growth of the health sector, disclosed that the three key demands of the striking workers have been addressed.
Although the minister noted that most of the earlier demands of the striking doctors had been addressed, he said that government in the interest of the public had accepted to grant the doctors the outstanding demands.
These, he said, include the signing of a fresh Memoranda of Understanding (MOU) to state that the FG will no longer stop skipping, and that no medical doctor or House Officer should be barred from belonging to any medical association.
Prof Chukwu said,   "At the end of meeting which lasted for 10 hours, another MOU was signed Friday. As I speak with you, the Federal Government has met its own side of the MOU and it is expected that the members of NMA would from today begin to respond and attend to all emergency cases in public hospitals in the spirit of this understanding. It is expected that the NMA will call off the strike after its emergency delegates' meeting scheduled for next Monday July 7th 2014."