Confab: Elders, others boycott meeting with Kutigi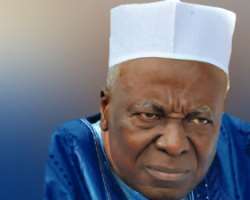 The meeting of the elders of the six geo-political zones which make up the Consensus Committee popularly called '50 wise men' set up to resolve some contentious issues in the on-going National Conference could not hold as scheduled yesterday, THE CITIZEN learnt.
The plenary session of the conference ended on Thursday without a final decision on critical issues of revenue sharing formula from the Federation Account and derivation principle.
After a brief consultation with the principal officers, chairman of the conference and former Chief Justice of Nigeria, Justice Idris Kutigi, announced that the leadership of the conference would meet with selected delegates referred to as the 50 wise men in a bid to resolve the contentious issues.
Kutigi said in addition that all the chairmen, co-chairmen and deputy chairmen of the 20 committees that handled different assignments for the Conference should also attend the meeting.
Members of the Consensus Committee drafted from the six geo-political zones to find a middle ground to the contentious issue of derivation formula could not reach an agreement on the resolution to be presented to the plenary.
It was said that only less than 20 among the expected 50 that turned up for the Friday meeting, thereby fuelling speculations that the Conference may not end well if care is not taken.