Jonathan restates commitment to provision of affordable houses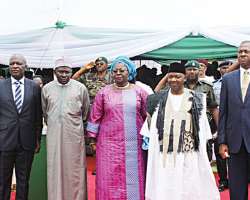 President Goodluck Jonathan has reiterated his administration's commitment to providing affordable shelter for all Nigerians.
The President spoke yesterday in Enugu through the Vice President, Namadi Sambo while commissioning 324 Units, Elim Housing Estate in Nike, Enugu State.
'Today's commissioning ceremony is another beautiful and verifiable pointer to the success of housing delivery and verifiable urban development strategies of our administration'.
'We are beginning to notice significant improvement in housing and urban development arising from the implementation of the many people-oriented projects.
'We shall not relent in our efforts to provide affordable housing for our people. Housing is very important to social and economic development of any society,' he stated.
President Jonathan commended the developer, COPEN Group, for delivering on quality and time.
Earlier, Governor Sullivan Chime of Enugu State said apart from keying into the Federal Housing Scheme, his government was partnering with the private sector to provide quality and affordable houses for its workers.
While assuring of his readiness to continue partnering with the Federal Ministry of Land, Housing and Urban Development in that regards, he disclosed that 'I have directed the relevant agencies of government to expedite action on the ministry's request for land to provide a similar estate.
'Here in Enugu State, we have fully developed six estates and all of them are occupied. We found time to commission the Maryland Estate, which contains 384 Units, fully developed'.
The Governor, however, observed that since it could not meet the housing needs of the people alone, it had continued to partner with reputable estate developers, noting that 'Elim Estate is a clear example of such partnership'.
He equally described the developer, Rev. Surveyor Ugochukwu Chime as a rare achiever and called on other contractors and developers to emulate the rare standard he had set.
The Chairman, Senate Committee on Housing, Dr. Buka Aba Ibrahim, in a goodwill message at the event disclosed that the National, Social Housing Bill would be passed next week 'so that the federal government can mobilize to build houses not just for the rich but for all levels of people in the country'.
The Managing Director, COPEN Group, Rev. Surveyor Ugochukwu Chime, in his address, disclosed that the 324 Elim Estate consists of 75 number of 3 bedroom detached bungalow, 89 number of 2 bedroom semi-detached block of flats, 32 number of 2 bedroom in Terrace and 128 number of 1 bedroom Terrace.
The Estate, according to him, equally contains a perimeter fencing and police post, tarred access roads, dedicated 500 KVA transformer, water reticulation, indoor sporting facilities and a shopping centre.