Isaac Idahosa At 49: A Revelation Of A Preacher With Integrity And Class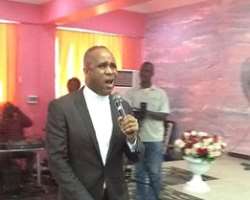 Bishop Dr. Isaac Idahosa is the Senior Pastor and Presiding Bishop of God First Ministries International, aka illumination Assembly. He is one of the famous Nigerian televangelist that has used the media industry to affect lives positively in all ramifications. Bishop Isaac Idahosa is from Edo State, but his parents sojourned in the City of Minna, Niger State, after the Nigerian civil war.
As a young man growing up, in the City of Minna in Niger State, little did he know that one day; he would be sought after in the Christian circle. As a trained engineer, he only believes that his profession will earn him a living until he got his calling at his youthful age and decided to pursue God's work with all passion. Though, his growing up in the North then was not like now that Boko Haram insurgents have taken over the peace of the region. Bishop Isaac Idahosa started his ministerial calling in Niger State and God asked him to leave for Lagos to start the ministry work which he did to avoid God's wrath. Today, Bishop Isaac Idahosa preaches on one of the Nigerian popular television channel which called' SBI' that is linked with the Nigerian televisions, using this medium to win souls for Christ.
Bishop Isaac Idahosa has one of the fast-growing mega churches in Nigeria situated in the highbrow areas of Lagos State. One thing about Bishop Isaac Idahosa is that he cares for the less privileged ones and members. He is not ministerially carried away by the daily fame he receives from the media but ready to inspire young people for Christ. He is a gifted and oratorical preacher with a difference. Bishop Isaac Idahosa appreciates every good works that comes to him. At 49, Bishop Isaac Idahosa looks younger than his age. He does not motivate people but give people light to their flight. Though Isaac Idahosa is not related to late Archbishop Benson Idahosa of Church of God Mission International but sees the late latter as a father of faith. He takes Papa Ayo Oritsejafor for as a mentorial father in the ministry. He is one of the well- articulated, creative and celebrated young bishops Nigeria has ever produced in recent times. He writes, eats and chews the word of God with passionate calling and sings from the heart of God and God destined his renowned wife, a singer from Taraba State, Mrs. Christy Idahosa to marry this flamboyant minister of God with creativity and blessed with progressive Children; Christabel and Apostle. He has received several national and international awards to his credit. He is the African Representative of Global Impact Ministries International and the current Executive Chaplain General of Nigeria. He has impacted positively on the lives of his church members and remains their God- sent mentor and inspirator of the kingdom of God. His books and tapes are sold across the globe because of the gifted writing spirit that God deposited in him. Nobody reads Bishop Isaac Idahosa books or listening to his tapes without a testimony or miracle. He believes on value of change not gossip in someone's life.
Bishop Isaac Idahosa remains one of the humblest bishops who does not go with intimidating security officers and belongs to one of the spiritual and committed college of Bishops in Nigeria and abroad. He does not have any inflexible etiquette officers than his church workers. The kind of Isaac Idahosa is few in Nigeria most especially the gospel circle where pride and intimidation has taken over the message than God's presence. He has one of the largest congregations in Nigeria with branches across the globe. He is a moderate pastor with credibility. He is a first class conference and seminar speaker with integrity. In Ajah area of Lagos State, God First Ministries International, aka Illumination Assembly is one of the largest in terms of ministerial growth and membership strength which mostly youths. His Thursdays morning and Sundays services are well packaged to the core. One version of Bishop Isaac Idahosa is that he is not distressed by iniquitous publications against his person by soft-sell magazines, newspapers and online media but sees it as stepping stone to God's fulfilment in his life. Bishop Idahosa remains an indefatigable minister of God with admissible evidence in his ministry. One of his books says' The evidence is true but the story is false and that is who Bishop Isaac Idahosa is. Once again, happy birthday, my big daddy at 49. You are worthy to be emulated in this generation of ours.

Godday Odidi
Public Affairs Analyst.
08058124798.Lagos.
Disclaimer:

"The views/contents expressed in this article are the sole responsibility of the author(s) and do not necessarily reflect those of The Nigerian Voice. The Nigerian Voice will not be responsible or liable for any inaccurate or incorrect statements contained in this article."
Articles by Godday Odidi