Bini chief, wife arrested over 2 actors' death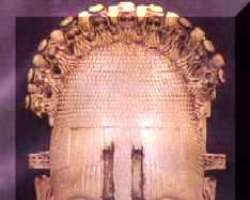 BENIN—A Benin palace chief and his wife (names withheld) have been arrested by the police in Benin in connection with the recent murder of two movie stars in his house.
Also, the police are hunting for two of their children in connection with the murder of the actors.
Police spokesman, Mr. Peter Ogboi, while confirming the arrest of the couple, disclosed that the police have intensified their investigation to unmask those behind the brutal killing of the movie stars.
According to Ogboi, the couple, said to be the proposed in-laws of one of the slain actors, Mr. Erauyi Ogbeide, a.k.a, Ukeke, invited him to their family house in Benin City only to be killed along with his colleague, Mr. Eghosa Idehen, a.k.a Erejiro who had accompanied him there.
It was alleged that the chief, on witnessing the killing of his guests in his sitting room, went into hiding instead of contacting the police, while his wife allegedly told the police that her husband was receiving medical attention in an undisclosed hospital for bullet injuries he sustained during the attack.
The police, in its investigation, however, found the claim to be false.
Their two sons, now at large, were said to have allegedly dragged the corpses of the actors from their parents' sitting room to the veranda of the house as soon as the gunmen left the scene.
It would be recalled that the two Benin-based actors were murdered at about 8.45 pm on Tuesday, 9 March 2010 by yet-to-be-identified assassins
Story by nollywoodgists.com