Abuja airport to be closed again – FAAN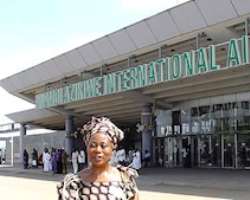 The Federal Airports Authority of Nigeria on Tuesday announced that the runway of the Nnamdi Azikiwe International Airport will be closed again for another 30 hours in order to rehabilitate its remaining section.
This is coming as the authority also announced the re-opening of the runway which was closed for 30 hours between last Saturday night and Monday morning.
The Coordinating General Manager, Aviation Parastatals, Mr. Yakubu Dati, said the second rehabilitation exercise would commence on Saturday, July 12 to Monday, July 14.
Dati, in a statement said, 'The runway of the NAIA which was closed for 30 hours for rehabilitation on July 5, 2014 has been re-opened for flight operations. Reports from pilots who have used the runway so far indicate that the rehabilitation of a section of the runway was professionally executed and would enhance safety of flight operations on the runway.
'The second phase of the rehabilitation of the remaining section of the runway would however take place for another 30 hours at the weekend between Saturday 12, (2300 UTC) and Monday 14 (0500 UTC), 2014.'
He said a notice to this effect had already been sent to all aircraft pilots and other relevant stakeholders, informing them of the impending closure.
Dati said, 'The runway rehabilitation is being done in two phases to minimise the inconvenience the runway closure would have on air passengers and aircraft operators if it was carried out at once.
'The authority regrets the inconvenience the second closure of the runway, within one week, would cause passengers and other stakeholders. We wish to assure the public and all aviation stakeholders that the conclusion of the maintenance work on the runway would guarantee enhanced flight safety on the Abuja Airport runway.'