Revealed, how Dadi Monso was caught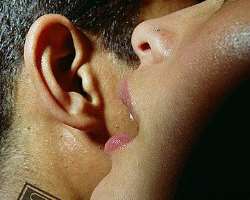 NOLLYWOOD star, Dadi Monso... you don't recall Monso? Hold on, let me refresh your memory a bit. The actor was the same person that T4T reported had resorted to hiding in a spot inside the National Stadium premises where cheap beer is sold after declaring he was tired of playing the star and drinking beer at high prices at celebrity hangouts. Yes, it is the same Monso, but this time, he did not go to drink beer or eat goat head at reduced prices, he was seen at about 11.30pm at Yeside Bus Stop, Aguda, with a friend (if you like say na man or woman, na you come talk o). They were walking to the bus stop and from the way the 'friend' was dressed, you will know that the 'friend's' house is not far from the location they were sited. I met Monso days after and told him I would let the world know that he was seen at that ungodly hour of the night (as if Curfew dey Lagos) and if he has any explanation, he should send his disclaimer to the Editor, nfc.
Truth is he attempted to appease (or bribe) me with a bottle of ... but sorry, nfc has kicked the drinking habit. Monso, epele o.
Story by nollywoodgists.com