Young African CEOs To Converge In Dubai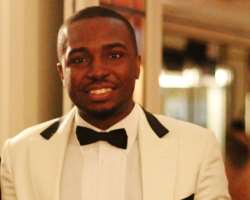 In a concerted effort to create a platform for networking, debate opportunities and share global best business practices, African young CEOs as well as aspiring and established entrepreneurs from across the globe will converge at the Young CEO Business Forum, which will be held at the Dubai World Trade Centre in the United Arab Emirates, from 10th - 13th of August, 2014.
The Young CEOs from all over the world will gather to discuss the theme 'Rethinking Entrepreneurship in fast Changing World: New Approaches, Fresh Opportunities' at a Summit that will have international business men and women discussing new strategies on how to unify global businesses, as well as find ways to enhance and support entrepreneurship globally while focusing on job creation.
While commenting on the goal and rationale for the Summit, the Co-Founder of the Young CEOs Business Forum, Ambassador David James Egwu said 'The aim of the Summit is to exchange ideas and explore potential for business relationships and collaboration'.
He further stated that, 'It is our hope that at the end of the Summit, new approaches would be devised to deal with certain challenges confronting global businesses and their CEOs, as well as new opportunities explored'.
The Summit aims to present a unique opportunity for participants from around the world to explore fresh opportunities in business directions and promises to be a world class event that will leave all those who attend with a lasting impression and business relationships that will change their businesses for the best.
Invited speakers at the Summit will include Richard Branson, Founder & Chairman of the Virgin Group; Justina Mutale, African Woman of the Year and Founder & CEO of POSITIVE RUNWAY:The Global Catwalk; Lord Alan Sugar, Founder Amstrad & Member of the UK House of Lords; Divine Ndhlukula, Forbes-listed most successful business woman in Africa 2012 and also Chairperson of the Zimbabwe National Chambers of Commerce ZNCC; Frank Nweke Jr., Director-General of Nigerian Economic Summit Group and former Minister of Youth and Information Federal Republic of Nigeria, Ms. Esther Cobbah, Chief Executive Officer, Stratcomm Africa, (Ghana's most successful home grown communications and Reputation Management Company); Mrs. Maha K. Al-Ghunaim, Chairperson and Group Chief Executive Officer of the Global Investment House and Tony Elumelu, Founder Heirs Holdings Ltd.
In highlighting likely activities at the summit, Tonye Rex Idaminabo, Principal Partner of African Achievers Awards and Co-Founder of the Young CEO's Forum's said special activities that would be featured in the Summit will include the CEO's Prize for Global Corporate Governance, where outstanding young CEOs would be recognised and celebrated for their roles in global economic transformation. According to Rex 'Such recognition will motivate and challenge other aspiring CEOs and further create success model worthy of emulation'.
Mr Idaminabo disclosed further that the CEO's boot camp would provide special opportunity for emerging new venture leaders with core insights on foundational knowledge on essential elements of starting and running a big, sustainable enterprise using the right business model. In addition to the boot camp, exhibition opportunities would be available for all registered participants at the event just to enable them to position their products and services to the international market.
Other activities lined up for the Summit include; Networking Sessions, Breakfast Meetings, Specialized Business Strategy Training, Delegates' Reception/Dinner with top government officials, in addition to investment tours and Expert Panel discussions based on Question and Answer Sessions.
For more information, Sponsorship and Registration please visit:
www.ceobusinessforum.com