Taraba crisis: 50 000 displaced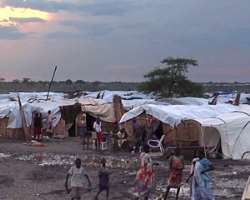 Taraba crisis: 50 000 displaced
Bali – More than 50 000 persons, mainly women, children and the aged, have been displaced from their homes in various parts of Taraba following the recent crisis in the area.
Hajiya Zainab Umar, Operations Officer in the Gombe Office of National Emergency Management Agency (NEMA), disclosed this on Sunday in Bali.
Umar was at one of the camps occupied by victims of the recent communal conflict to distribute relief materials to some of the Internally Displaced Persons (IDPs) in the area.
She explained that NEMA had donated 20 trucks of relief materials and had commenced distribution of the assorted materials comprising food, non-food items and medical supplies to the displaced persons.
"About 9 000 displaced persons have taken refuge in some places of worship and residences in Bali, headquarters of Bali council area.
"At least another 16 000 persons displaced by religious violence in Wukari and Ibi are in Mutum-Biyu, Gassol Local Government Area of the state.
Umar noted that the Federal Government had, after each crisis and natural disaster, dispatched several relief items to Taraba through NEMA.
She called on wealthy individuals and state governments to also to assist the victims.
Wukari has witnessed four religious crises since the beginning of the year, resulting in destruction of lives and property.
Ethnic conflict between farmers and herdsmen in the Bali area has resulted in the loss of several lives and destruction of property worth millions of Naira.
For fear of losing their lives, residents in the affected areas have deserted their homes to take refuge in camps and worship places in the council headquarters.
- NAN