FINALLY, ASSET BILL BECOMES LAW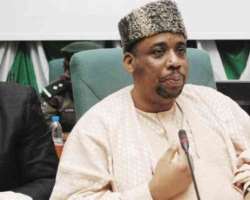 By Ini Ekott
March 24, 2010 02:07AM
The House of Representatives yesterday finally passed into law the Asset Management Corporation bill that will set up a company to handle non-performing loans and other toxic assets which almost collapsed many banks last year.
The law will only be effective after a similar passage by the Senate, a harmonization and signing of the bill by the president. After a delayed second reading two weeks ago, the bill is currently at the committee stage at the Senate.
'A bill for an act to establish the Asset Management Corporation of Nigeria is hereby passed for the purpose of efficiently resolving the non-performing loan assets of banks and other matters connected therewith is herby passed,' said Bayero Nafada, the Deputy Speaker of the House of Representatives. Tuesday's third and final reading at the House was only ceremonial, without debates, after an earlier adoption of key recommendations of the House Banking and Finance committee, which held public hearings on the proposed legislation in January 2010.
The corporation is a conception of the federal government, as part of its policy on reform of the banking industry. It is meant to legalise the bailout issued some ailing banks by the CBN last year.
The company, when established, will have a life span of 10 years and will be owned equally by the bank and the Federal Ministry of Finance, which will both provide the N10 billion capital base.
The House of Representatives passed the bill on March 10, after adopting the report of the committees on banking and currency, finance and capital market. The bill had already gone through second reading at the House, and a public hearing was held on January 28.
A welcome development
After the passage, Mohammed Abdullahi, the CBN's spokesperson, said, 'It's a welcome development for the banks because of the prospects the company holds.
'As far as we are concerned at the CBN, it is a welcome development that will help resolve some of the issues with the recapitalization of the banks we took over,' he said.
The House committee on Banking and Currency had raised the capital base to N20 billion in its report, but it was driven back to the original CBN-recommended N10 billion during the House general consideration of the reports.
The Senate had earlier rejected the bill on the grounds that it lacked the cost implications of setting up the company and a brief explanation of the bill. The missing components were, however, later submitted by the bank.
The reports of the hearings are being awaited from the Senate Banking committee headed by Nkechi Nworgu.