I Am Not Broke……..Rapper, Kel yells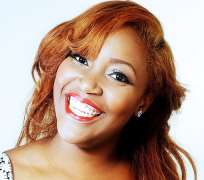 Popular female rapper, Kelechi Ohia better known as Kel, has debunked rumours that her long absence in the music industry was as a result of financial constraints.
According to her, she intends coming back into the industry which has made as she had to step aside in order to concentrate on her studies.
Kel admits that she has grown better than before because she pays attention to critics and that makes her cry any time negative things are said or written about her.
'I used to read what was written about me, become saddened and sometimes cry. But I have moved on. Now I read and laugh a lot, shake my head, and sometimes share jokes with friends. I have grown wiser and stronger and more comfortable and honest with who I am. Experience has taught me a lot and I have learnt that nobody will look out for you like you can,' She said.
'Right now, I will make music that is raw and real. I miss performing on stage. Some people said I left because I was broke and started a family somewhere. But they are all wrong. I am dedicated to my work and music for now. I won't be releasing a double album because that will be too much music at once. Nigerian artistes are doing well especially on the international level.'