Ex-Speaker Masari, Daggash, Aneinih's wife make ministerial list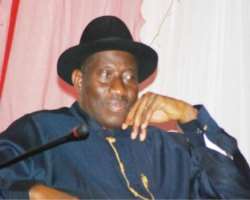 The Acting President Dr. Goodluck Jonathan
The Acting President Dr. Goodluck Jonathan has submitted the first batch of 25
ministerial nominees to the senate for screening.
Reports say that the list was sent to the upper chamber through the Presidential
liaison officer on National Assembly matters Hon Cairo Ojugbo.
There are conflicting reports about how many old ministers who return but as at the
time of this report only eight made the list, sources however said some old ministers
might make the second batch, there are 17 more names yet to be announced.
The list of the first batch are the following
Returnees
•Mrs. Diezani Allison Madueke
•Arch. Nuhu Sumo Wya
•Mr Odion Ajumogobia (SAN)
•Mrs Fidelia Njeze
•Prince Adetokunbo Kayode (SAN)
•Senator Akinlabi Olasunkanmi
•Mr Godsday Orubebe
New Entrants
•Mrs Josephine Anenih (Anambra)
•Prof. M.K. Abubakar (Kebbi),
(Vice Chancellor Kebbi State University)
•Navy Captain N.S. Olubolade (Ekiti),
(former Military Administrator, Bayelsa State)
•Mr Chris Ogienwonyi(Edo)
•Ndanusa Alao (Kogi State)
•Alhaji Murtala Yar'Adua (Katsina)
•Hon. Nduese Essien (Akwa Ibom)
•Alhaji Umaru Aliyu (Taraba)
•Alhaji Abubakar Sadiq Mohammed (Gombe)
•Olusegun Olutoyin Aganga (Lagos) Managing Director, Goldman Sachs
•Labran Maku (Nasarawa), former deputy governor
•Senator Sanusi Daggash
•Emeka Wogu (Abia )
•Bello Adoke
•Mrs. Josephine Tapgun (Plateau)
•Adamu Maina Waziri (Yobe)
•Capt. Ernest Odebola
•Mr Suleiman Bello
Source: Nigerian Tribune
Surprisingly, that former information minister Dr. Dora Akunyili, and foreign affairs
minister Ojo Maduekwe did not make the first batch, perhaps they might make the
second batch.
Among the new entrants, it is important to highlight the nomination a former speaker
of the House of Representatives Alhaji Aminu Masari. He was the Speaker between
2003-2007. The soft spoken politician provided the necessary support for former
President Olusegun Obasanjo's 2nd term, and Masari's tenure was largely peaceful
especially when you measure it in terms of executive and legislative relationship.
There were speculations then that he might be made governor of Katsina state to
succeed the then Gov. Yar'Adua who was endorsed as presidential candidate of the
PDP, only for things to work against the former speaker because Yar'Adua wanted
another person to succeed him. Reports have it that though Masari and Yar'Adua
come from the same state but they belong to a difference political camp.
Other big names who are on the list are, Mrs Josphine Anenih, wife of the PDP
stalwart Chief Tony Anenih who is popularly known as mr. fix it, Sen. Sanusi Daggash,
a former senator who is very sound and influential and Labran Maku, former deputy
governor of Nassarawa.
|
Article source