Igbinedion Dragged To Court Over Landed Property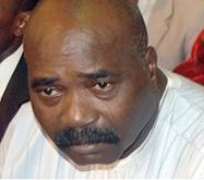 The Esama of Benin, Chief Gabriel Osawaru Igbinedion, has been dragged before a Benin City High Court by a Benin High Chief, Saka Lawal Balogun Osula, over landed property.
Also charged with the father of the former governor of Edo state is  Mrs. Irene Ododo Odaro.
The parcel of land  in contention is situated at 111, Sapele Road in the state capital, southern Nigeria.
In the suit dated 30 June, Osula is seeking for perpetual  injunction restraining the defendants, their agents, servants, privies, assigns or any person claiming through the defendants from  further trespass of the said land or unlawfully laying claim to the property.
Besides, the claimant in his written statement on Oath explained that he inherited the property from his late father, the Arala of Benin kingdom and previously leased it to MESSRS T.A. Oni & Sons Limited, who he said occupied the property for a specific duration of 50 years.
According to the claimant, as soon as the aforesaid lease expired in November 2013, the 1st defendant (Igbinedion) who is a titled chief, without regard for the Benin tradition, whimsically took possession of his inheritance and started erecting structures on the land "in spite of my persistent protest verbally and in writing through my solicitors."
 "I have had cause on several occasions to see the 1st defendant to vacate my property, but he constitently demonstrated  by his actions and deeds that he has no regard for due process of law," Osula said.
He further stated that the 2nd defendant who is also his sister, cannot by tradition of Benin Kingdom, claim ownership over the said property illegally trespassed upon by the 1st defendant, adding, "being incumbent hereditary title holder as the Arala of Benin Kingdom as conferred on me by the Oba of Benin, the aforesaid property is legitimately vested in me as one of the stool properties that goes with my hereditary throne."