Abiola Irele To Speak In Commemoration Of Wole Soyinka's 80th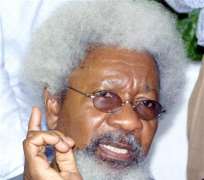 Leading Scholars, representatives of the civil society, leaders of industries, students and many more will join in the commemoration of Prof Oluwole Soyinka's 80th birthday as Prof Abiola Irele, renowned doyen of African Literature will speak to the theme 'Wole Soyinka and the Moral Burden of Literature' at the 6th Wole SoyinkaCentre Media Lecture Series which holds on Sunday 13 July, 2014 by 12.30pm, at the Bolaji Akinyemi Hall of the Nigerian Institute of International Affairs (NIIA), Victoria Island, Lagos.
The theme is apt in view of current realities in Nigeria. The Wole Soyinka Centre for Investigative Journalism (WSCIJ) hopes to bring attention to the many ways literature mirrors and impacts on the society while chronicling and drawing lessons from the life and works of Professor Wole Soyinka, the sage who turns 80 on the day.
Abiola Irele will be supported by Ropo Sekoni - WSCIJ Board Chair and a Professor of English and Mass Communication, Odia Ofeimun - poet, playwright and social critic and Dan Izevbaye - Provost College of Humanities of the Bowen University to discuss the theme.
The Wole Soyinka Centre Media Lecture Series, is designed to periodically examine varying topical issues that have a reverberating effect on the perceived performance of the media on the health of our country, Nigeria, and its democracy and has since 2009 held on July 13, Professor Wole Soyinka's Birthday, to honour this illustrious Nigerian while also drawing attention to critical national issues.
Admittance to the event is open to members of the public.

ABOUT THE CENTRE

The WOLE SOYINKA CENTRE FOR INVESTIGATIVE JOURNALISM(WSCIJ) is a non-governmental organisation with a vision to stimulate the emergence of a socially just community defined by the ethics of inclusion, transparency and accountability through support to journalists.
Initially known as the Wole Soyinka Investigative Reporting Award (WSIRA), the change in name became necessary in 2008 to reflect the intentions of the coordinators to embrace a more robust line of activities that have greater capacity for engendering the right values of investigative journalism in the Nigerian media.
The Centre is named after Professor Wole Soyinka in recognition of his life-long work in support of the freedom of expression, freedom to hold opinion, and freedom to impart them without fear or favour and without hindrance or interference.

Signed:

Motunrayo Alaka
Centre Coordinator

08028302436, 07029226323
[email protected]; [email protected]