Abia State Lauds HannahMay Foundation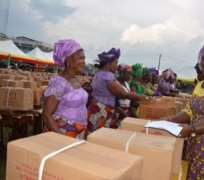 Abia state government has commended the HannahMay Foundation, the personal pet-project o of the wife of the governor, Mrs Mercy Odochi Orji for partnering with the state government to create wealth, employment and sustain security in the state through its empowerment programmes.
The state governor, Sir T. A. Orji made the commendation during the foundation's recent distribution of empowerment items to over 3000 Abia men, women, youths and the physically challenged selected from the 17 Local government councils of the state.
Sir Orji said that Foundation has through its activities brought succor to families and abate criminalities in the state and stated that the impact of its activities in poverty reduction, creation of wealth and employment and sustenance of security are highly commendable.
He therefore called on public spirited individuals and organizations and Non-governmental organizations (NGO's) to use their wealth to positively touch the lives of the downtrodden in the society just like HannahMay Foundation was doing.
In her address of welcome, Mrs. Orji said that through the humanitarian strides of the Foundation, HannahMay has been able to saved lives, rescued women in human trafficking, served mankind in epidemic and other natural and human induced disasters stating that the Foundation's vision and mission was to show love by making life meaningful and reduced the burden of indigent persons, widows, widowers, motherless babies, Network of People living with HIV/AIDS (NEPHWAN) and prison inmates in the Nigeria Prisons services in the state as part of her good governance complementing role.
Mrs Orji appealed to the beneficiaries of the empowerment programme to make effective use of the items to assist government in tackling criminalities and unemployment, create wealth through stimulating economic activities in the state.
The HannahMay Founder commended the state governor for creating a favourable environment for the Foundation to carry out its humanitarian programmes through her policy of care to all Abians and equally thanked the board of the Hannahmay for their resolve to serve humanity and appealed to well to do individuals in the society to continue to assist and support the humanitarian efforts/services of the Foundation in touching the lives of the downtrodden in the society.
Some of the beneficiaries were full of gratitude to the hannahMay founder for her care and love to the less privileged in the state and pray that god would continue to bless and protect her. Some of the items distributed include 1000 sewing machines, grinding machines, hair dressing equipments, barbing kits, vulcanizing machines, computer and its accessories among others.
DSC 8550
DSC 8734
DSC 8744